'Bring back order at the grassroots'
Local AL leaders urge new leadership after national council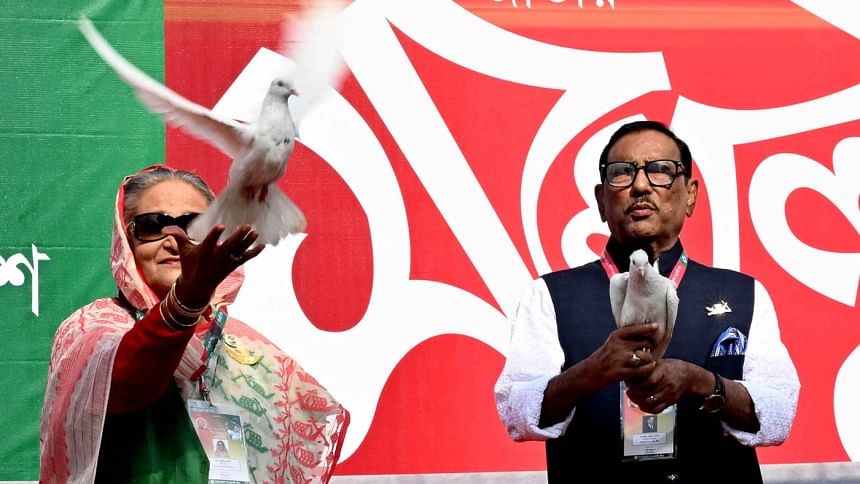 Leaders and activists of the Awami League's grassroots level said they expect the new AL leadership, elected through the 22nd national council yesterday, will play a strong role in organising the field-level workers ahead of the next national election.
They Daily Star talked with at least 12 councillors and delegates attending the national council. They said they want the AL leadership to work to strengthen the party base at the grassroots and help Prime Minister Sheikh Hasina build "Smart Bangladesh".
Netrakona Jubo Mohila League general secretary and councillor Syeda Shamsunnahar Beauty told The Daily Star, "We want a strong and committed general secretary who will face the challenges of the next national election."
"Ahead of the elections, we need a leader who can organise the grassroots-level workers. We know that the decision of the prime minister is final, but we also want her to pick a leader who will organise the grassroots," she added.
The national council of the ruling AL was held at the historic Suhrawardy Udyan in the capital.
Jamal Uddin Mahi, a member of the AL's religious affairs subcommittee, said, "We also want young leadership to continue the progress of our prosperity under the leadership of the prime minister. We hope that our leadership will be a combination of both junior and senior leaders, who will make it possible to implement Sheikh Hasina's Vision 2041."
"The top leadership [of Awami League] often overlooks the politics and politicians, which is why there is a chaotic situation that prevails in many grassroots level committees. Local leaders pick their 'man' in the leadership. We want the new committee to work for bringing back order in the grassroots," a grassroot-level Shwecchhashebak leader from Bhola told The Daily Star.
Syed Abdul Kafi, 90, former education and human resource affairs secretary of Cumilla city (south), said he wants the general secretary to travel across the country and unite the field-level activists.
Azizul Haque, a freedom fighter and a delegate of the council, said the main beauty of politics is the blending of youth and experienced leaders.
"Sher-e-Bangla AK Fazlul Huq and Huseyn Shaheed Suhrawardy were elder than Bangabandhu Sheikh Mujibur Rahman. But they practiced politics hand in hand. That is why Bangabandhu is the symbol of independence in our country," said Azizul who came from Kishoreganj.
Abdul Hye from Rajbari said those who are devoted to the party and were tortured during the BNP regime should be considered for their inclusion to the AL central committee.
Shri Razib Kundu, a delegate from Natore and Ferdousi Hasan, another delegate from Gazipur, said the new committee will work diligently to circulate the developments work of the AL-led government.
Around 7,000 each councillors and delegates and thousands of the AL leaders and activists attended the council yesterday.
The 21st council of the party was held on December 20-21.