Bridge lies with no approach roads
People of two unions suffer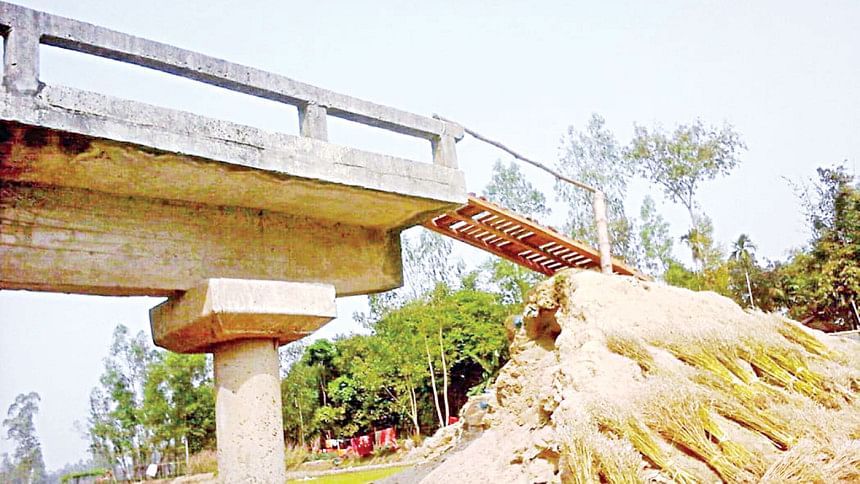 People of several villages under two unions in Dhanbari upazila have been suffering immensely for long as the bridge over the Bangshi river does not have approach roads on either side.
Villagers put makeshift wooden platforms on both sides of the bridge to cross the river.
Locals said although, they somehow walk through the bridge in the dry season, they have to depend on other alternatives in the rainy season.
They also blamed the negligence of the authorities concerned for the sufferings.
Funded by the Annual Development Projects, the bridge was constructed on the Bangshi river near Dhopakhali Bazar in 2016-2017 fiscal year to improve road communication facilities between 10 villages under Dhopakhali and Jodunathpur unions.
Taslim Ahmed, a resident of Islampur village under Jodunathpur union, said after completion of the bridge construction work, the contractor concerned filled earth on its both ends for construction of the approach roads, but floodwater washed away the soil the same year.
Although, several thousand people of different villages have been since then, the authorities concerned had done nothing to ease their troubles, he said, adding that they have informed the matter to Dhanbari Local Government and Engineering Department (LGED) Office and local public representatives, but they did not pay any heed.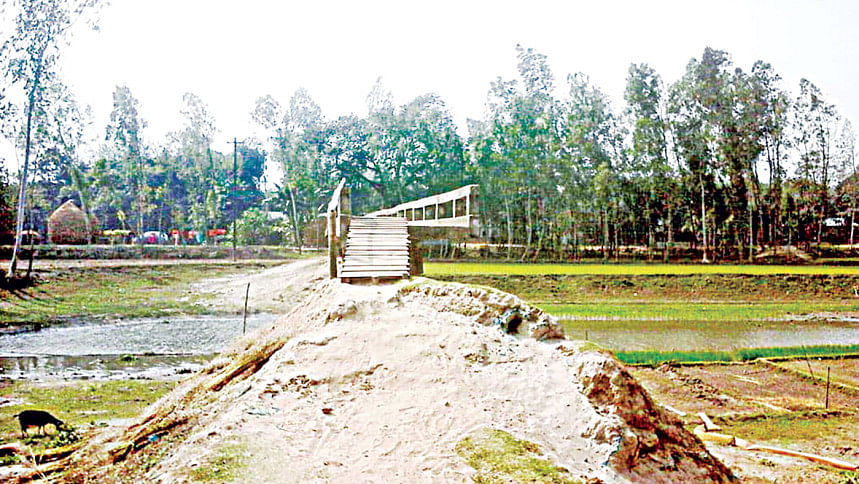 As a result, several thousand villagers, especially farmers, have been suffering a lot to carry their produces and other agricultural goods. "We thought the bridge would ease our communication problems, but it was complete waste of money," farmer Nurul Islam of Dhopakhali village said.
Another villager Sekandar Ali said due to lack of approach roads they have to spend extra money to go to their destinations, including to the upazila headquarters.
Shahina Begum of Islampur village said women and children, especially students of different educational institutions, suffer the most while crossing the bridge.
Azharul Islam, a member of Dhopakhali Union Parishad (UP), said although the upazila parishad chairman assured them, but the approach roads are not constructed yet.
Dhanbari LGED Upazila Engineer Joynal Abedin Sagar said the approach roads will be constructed this year.