Brick kiln on farmland
Construction work goes on defying ban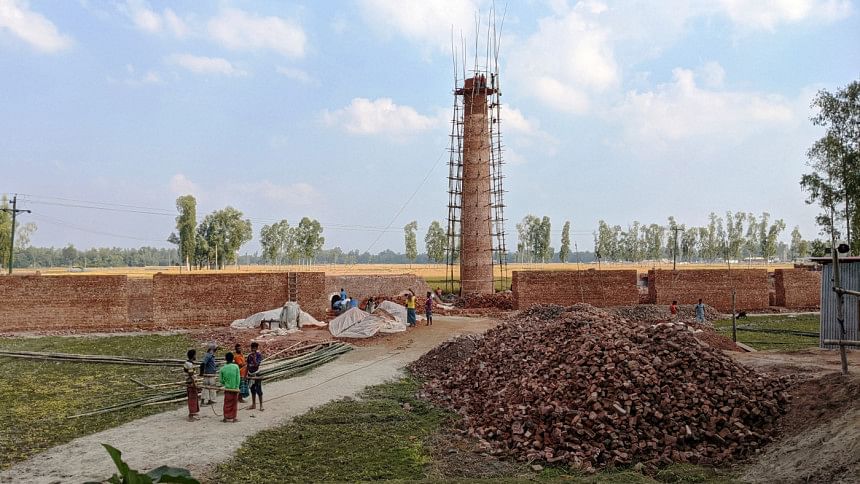 Construction of an illegal brick kiln on vast agricultural land in Kurigram's Ulipur upazila has been going on in full swing, defying ban from the local administration and Department of Environment (DoE).
Earlier in October, Ulipur upazila administration stopped the construction of the brick kiln at Hamirbazar under Tabakpur union, following complaints from the local farmers.
Locals alleged that construction work of the brick kiln has been restarted again as local administration has turned a blind eye to the wrongdoing due to unknown reason.
Farmers said Mahmudar Rahman Bakul, former chairman of Tabakpur Union Parishad (UP), started construction of the brick kiln at the beginning of August this year.
Although local people protested it, the owner didn't pay heed to their plea, they said.
Later, they submitted a written complaint to the upazila administration, agriculture department and DoE in this regard.
On October 25, a mobile court of DoE led by Ulipur UNO Subhan Rangsa went to the spot and stopped the construction work of the illegal brickfield.
 The mobile court also directed its owner to remove the under-construction structure.
But instead of removing, construction work of the illegal brick kiln restarted last month.
Farmer Mojibar Rahman said, "If the brick kiln finally starts its operation, farmers won't be able to get expected crops production from the adjacent croplands."
Contacted, Mahmudar Rahman, owner of the brick kiln, refused to make any comment in this regard.  
Ulipur upazila Agriculture Officer Saiful Islam said he has already written a letter to the administration to take immediate action against the illegal construction.
Kurigram DoE assistant director Rezaul Karim said the department has served a notice to the owner of the under-construction brick kiln last week.
They have also warned the owner to take legal action against him, if the structure is not removed by December 20, he said.
UNO Subhan Rangsa said they have stopped the construction work last week.  If the construction work resumes again, lawful action will be taken against the perpetrator, the UNO added.