Bottled LPG Price: BERC rate just on paper
Wholesalers hike prices on pretext of supply crunch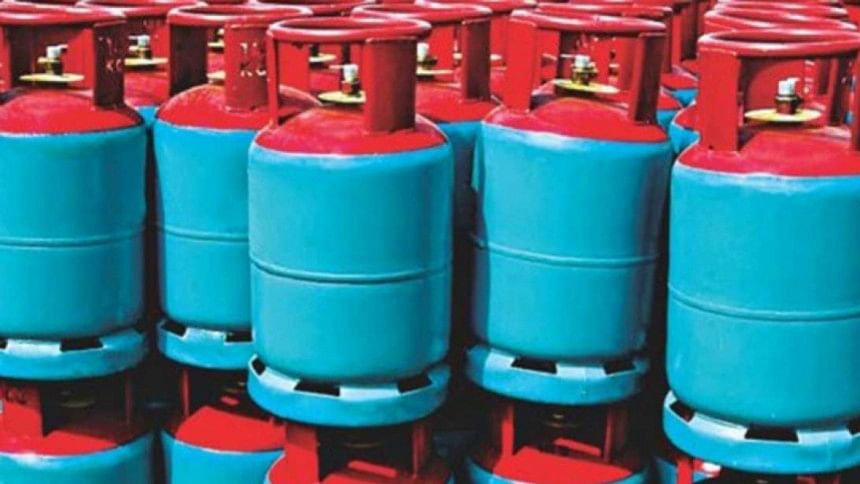 Retailers are not following the fixed price of bottled liquified petroleum gas using the excuse of a supply crunch and a dated pricing method.
For January, Bangladesh Energy Regulatory Commission fixed the price of a 12kg cylinder, the most common form of marketing the fuel, at Tk 1,232.
But The Daily Star found that consumers are not getting LPG at that price.
In different areas of Dhaka city, 12 kg LPG cylinders are selling for Tk 1,500 to Tk 1,750.
But Md Khorsed, an LPG retailer in the capital's Moghbazar area, was found asking Tk 1,800 for the 12kg LPG cylinder yesterday.
Asked why he was selling at a premium he mentioned a supply crisis: the company is not providing LPG as per demand.
"We sold at that [government-fixed] rate 15 days earlier. After that, we had to purchase LPG at higher costs," he added.
The Daily Star talked to at least 10 LPG users who bought a bottle in the last two weeks from Banasree, Eskaton, Moghbazar and Dhanmondi. All of them said they got a 12kg bottle at Tk 1,400 to Tk 1,700.
"The LPG price is skyrocketing -- we are in a hostage situation," said Abu Younus, a resident of Gendaria.
This has also impacted small businesses like Jarina Begum's tea stall in the Eskaton area, which are unable to pass on the burden of higher production costs to customers.
"We are struggling to sell a cup of tea at Tk 10. If I increase the price more, no one would buy tea from me," said Begum, who purchased a 12 kg cylinder yesterday for Tk 1,750.
The situation is the same outside of Dhaka. The Daily Star spoke with several LPG consumers in Chattogram, Mymensingh, Netrokona, Rajshahi and Khulna. They said they had to spend Tk 1,350 to 1,600 to get a 12kg cylinder.
After 15-20 days, Shamsur Rahman Nobin, a retailer in Rajshahi's court station area, was able to get LPG bottles from his wholesaler for Tk 1,550. He is selling those for Tk 1,620 -- Tk 400 more than the government-fixed retail price.
The importers and distributors blamed the higher price on the middlemen as well as an incompatible price method of BERC.
"There was a supply chain disruption as we were unable to open letters of credit and the middlemen exploited the situation," said Jakaria Jalal, head of division at Basundhara LP Gas, the market leader.
But, it is not possible to sell LPG at the rate fixed by BERC.
"There were lots of problems in the pricing process of BERC. They told us that they will hold a fresh public hearing to form a new formula, but they have not."
In the meantime, the price of LPG increased in the global market in February.
"We have to spend at least Tk 250 more on a cylinder than in January," Jalal added.
Contacted, BERC member (Petroleum) Md Kamruzzaman acknowledged receiving complaints last month of higher prices than the rate fixed.
"We will check and take necessary measures," he said, adding that they will announce the LPG price for February soon.
BERC started pricing LPG in August 2020.
The market for LPG boomed after the government in 2020 decided not to provide fresh gas connections to households.
Bangladesh's annual LPG consumption is about 14.28 lakh metric tonnes, with households accounting for about 84 percent of the consumption.
Around 99 percent of the market is dominated by 29 private companies.