Better-pay demo: RMG workers take to streets in Mirpur to protest attack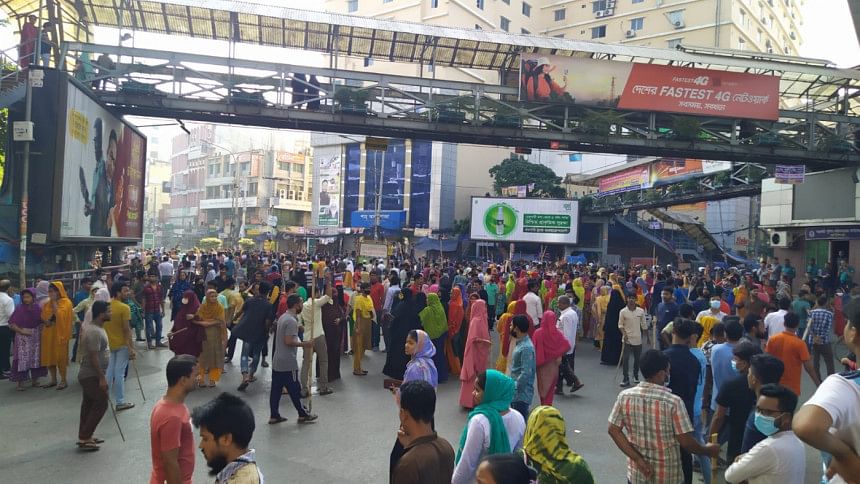 A section of garment workers were observing a work abstention and staging demonstration in Dhaka's Mirpur-11 area this morning demanding a hike in their wage and protesting yesterday's attack on workers of an RMG factory.
At least 1,000 workers of six to seven factories blocked the main road of Mirpur-11 around 8:00am today, halting traffic movement for half an hour.
Around 8:30am, they left the spot and went to Mirpur 13 via Mirpur 10, and were seen asking workers of different factories to join them.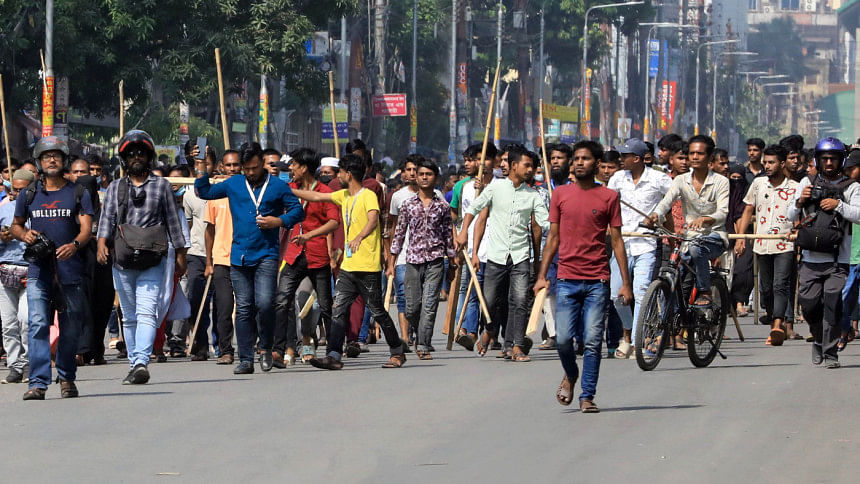 One of them said, "We came under attack. Why didn't the police take action against it? Ruling party men attacked innocent workers.
"Today we are observing a strike in protest," he said.
Yesterday, over two dozen workers of an Epyllion Group factory in Mirpur-11 were injured as unidentified outsiders allegedly entered their workplace and assaulted them with rods during a silent protest for higher minimum wages.
Some workers said they suspected the involvement of ruling party activists as the attackers kept calling them "BNP-Jamaat".
Reazuddin Al Mamoon, chairman of Epyllion Group, told The Daily Star today, "A hundred or more people barged into the factory, past the three or four security guards. They broke the CCTV cameras. I am so frustrated that these workers have been assaulted like this."
"I have been working as a machine operator for the last 11 years," said a worker of Epyllion Group factory.
"Currently, my salary is Tk 10,700. I work from 8:00am to 5:00pm. I come to work leaving my two children at home. I cannot manage my expenses for even 15 days with the amount.
"If there is a problem in increasing salaries, then the prices of essential commodities should be reduced. Rent should be reduced. Make sure that we can run the whole month with the money we get," he said.
Another worker said, "We don't have any link with politics. We are not associated with any political party. We are peacefully agitating for our salary hike. But we were attacked by people from the ruling party. The life of a garment worker should not be taken for granted."
Around 9:30am, some law enforcers were seen on the main road in Mirpur-11 but they left as the number of garment workers increased.
Policemen present there refused to comment on the ongoing protest.
This original report erroneously quoted Epyllion Group Chairman Reazuddin Al Mamoon as denying that the outsiders attacked the factory, when in fact it was one of his staffers who said it. The chairman's quote has been included in this updated report. We regret the error.