Bangladesh's Promising Bourse: Cash-flush Americans can now invest easily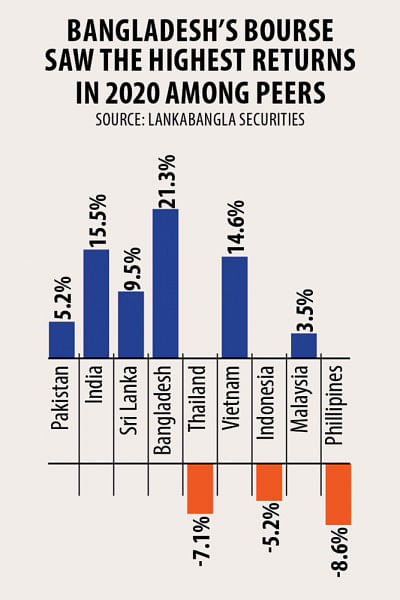 A hidden gem is what British banking giant HSBC dubbed Bangladesh's bourse earlier last month.
But the problem is, access to this market is rather difficult for global investors who are flush with cash but not lucrative investment options.
Foreign investors need to open a special cash account, a non-resident investor taka account, with a custodian bank as well as a foreign currency account for remittances inside and outside the country and a beneficiary owner's account -- steps not very straightforward for someone not residing in Bangladesh.
But Bangladesh's stock market could do with the liquidity for vibrancy, further development and most importantly, for economic growth.
Many profitable investments require a long-term commitment of capital, but investors are often unwilling to give up control of their savings for long periods.
Liquid stock markets make investments less risky and more attractive because they allow savers to acquire an asset in the form of stock (equity) and to sell it promptly and reasonably if they need access to their savings or want to alter their portfolios.
At the same time, companies enjoy constant access to capital through equity rights issues.
By facilitating longer-term and more profitable investments, liquid stock markets improve the allocation of scarce resources, that is capital, and the promotion of production of goods and services as well as employment and therefore enhance prospects for long-term economic growth.
Additionally, by lowering enterprise risks and increasing profitability, stock market liquidity can direct more investment and contribute to increased prosperity.
Empirical studies have established that stock market liquidity affects economic growth by and large, and there is a diminishing return to liquidity as a country progresses toward development.
In other words, Bangladesh is in the right stage of development to benefit from a liquid stock market.
But Bangladesh's capital market is rather illiquid compared with its peers. For instance, the daily trading value, a metric for liquidity, is around $81 million in contrast to Vietnam's $714 million.
And solving the problem is Dawn Global, a London-based boutique investment firm.
Last month, it launched an exchange-traded fund (ETF) that provided easy entry to global investors, particularly American ones, to the bourses of Bangladesh, Indonesia, Pakistan, Philippines and Vietnam -- five large and fast-growing but historically difficult-to-access markets.
An ETF is a basket of securities that tracks an index, sector, commodity or other assets, but which can be purchased or sold on a stock exchange the same as a regular stock.
Investors who purchase shares of an ETF can gain exposure to a basket of equities and limited company-specific risk associated with single stocks.
Called the Asian Growth Cubs ETF, Dawn Global's investment vehicle is listed on the New York Stock Exchange.
By way of the Cubs ETF, American investors, for the first time, can get a slice of Bangladesh's stock market -- which yielded the highest return of 21.3 percent amongst its Asian peers in 2020 -- without going through the hassle needed to invest directly.
As much as 17 percent of the Cubs ETF is dedicated to Bangladesh.
At present, the Cubs ETF has positions in eight Bangladeshi stocks: Brac Bank, Grameenphone, Square Pharmaceuticals, Renata Pharmaceuticals, Beximco Pharmaceuticals, Summit Power, Marico and Beacon Pharmaceuticals.
Over the past year, save for Grameenphone the stock prices of all posted gains upwards of 25 percent, with Beximco and Beacon's stock prices more than doubling in value.
"Bangladesh is a remarkable long-term economic success story and yet this story is hard to access for foreign investors given the lack of ETF or ADR [American Depository Receipts] coverage in Bangladesh," said Maurits Pots, founder and chief executive officer of Dawn Global.
ADRs offer US investors a means to gain investment exposure to non-US stocks without the complexities of dealing in foreign stock markets.
"Through the Cubs ETF I am hoping I can make this unique Bangladeshi story more accessible to foreign investors," said Pots, who is being advised by Nihad Kabir, president of the Metropolitan Chamber of Commerce and Industry.
The five economies have individually grown GDP faster than 6 percent a year since 2000, while Bangladesh and Vietnam have compounded GDP for 40 consecutive years including 2020, according to Dawn Global.
Most emerging market investors focus on China and India among Asian countries and yet there is a compelling long-term secular growth story in five Asian countries with a combined population of more than 860 million, which is expected to grow to one billion by 2035 and with attractive demographics, Pots said.
The average age is 28 in the markets with a burgeoning middle-class and accelerating digital adoption, he added.
And Dawn Global's launch of the ETF could not be more opportune: partly as a result of monetary and fiscal stimulus for the US economy, more money than ever has flowed into the financial system.
The glut of cash is looking for a home in a dwindling supply of positive-yielding places as US markets flirt with negative interest rates.