Bangladesh's credit rating unchanged
Standard & Poor expects external pressure to ease in a year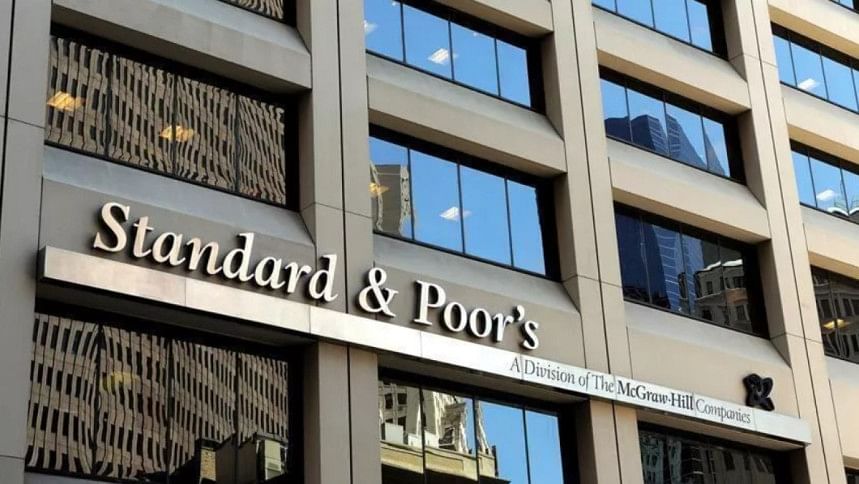 Global rating agency Standard & Poor yesterday maintained its long-held credit score for Bangladesh despite the ongoing hiccups in the economy, in a development that will ward off fears of any financial crisis similar to South Asian neighbours.
S&P maintained its "BB-" long-term and "B" short-term sovereign credit ratings on Bangladesh.
In general, a credit rating is used by sovereign wealth funds, pension funds and other investors to gauge the credit worthiness of Bangladesh, meaning it has a big impact on the country's borrowing costs.
Bangladesh's short-term credit rating of "B" means a country is more vulnerable to adverse business, financial and economic conditions but currently has the capacity to meet financial commitments.
The long-term credit rating of BB- means the economy is less vulnerable in the near-term but faces major ongoing uncertainties to adverse business, financial and economic conditions.
While Bangladesh is weathering a period of heightened external pressure, characterised by an elevated current account deficit and declining foreign exchange reserves, the country's economic growth trajectory remains sound, S&P said.
"We expect external conditions to gradually stabilise over the next 12 months," it said.
Subsequently, Bangladesh's outlook remains stable.
The unchanged credit rating has given breathing space to both the central bank and the government, said Md Habibur Rahman, chief economist of Bangladesh Bank.
"This rating has reaffirmed the resilience and strength of Bangladesh's economy," he said.
Had the agency lowered the sovereign ratings for Bangladesh, the country might have faced higher interest rates on foreign loans, said a BB official.
"On top of that, the foreign investors might have shown reluctance to make investments in Bangladesh," he added.
Bangladesh's economic recovery remains on a sound footing, with 7 percent real GDP growth projected over the next three years.
The normalisation of economic activity domestically and abroad is supporting strong momentum in Bangladesh's labour market and export industries, S&P said.
However, new challenges have emerged in the form of the "exceptionally strong domestic demand conditions that are exerting pressure on Bangladesh's external settings".
The ratings on Bangladesh reflect the country's modest per capita income and limited fiscal flexibility owing to a combination of diminished revenue-generation capacity and elevated interest burden.
Evolving administrative and institutional settings represent additional rating constraints.
"We weigh these factors against consistently high economic growth and an external position that's supported by substantive engagement with bilateral and multilateral development partners, large remittances from overseas Bangladeshi workers, and a globally competitive garment sector."
The factors should help to stabilise Bangladesh's broader external conditions over time, assuming a normalisation in domestic demand and global inflation dynamics.
"Modest per capita income, which we estimate at less than $2,700 for fiscal 2023, remains one of Bangladesh's main rating constraints. This level of per capita income limits the fiscal and monetary flexibility needed to respond to exogenous shocks."
S&P may lower the ratings on Bangladesh if net external debt or financing metrics worsen further, such that narrow net external debt surpasses 100 percent of current account receipts, or gross external financing needs exceed 100 percent of current account receipts plus usable reserves, on a sustained basis.
Generation of current account receipts lower than expected, a higher overall current account deficit than forecast, or a further material decline in foreign exchange reserves would be indications of further weakening.
"We may upgrade Bangladesh if the government materially improves its fiscal outcomes, including its very low revenue generation and elevated fiscal deficits, and experiences a substantial improvement in its external settings. We may also raise the ratings if we observe that Bangladesh's institutional settings have markedly improved."
Bangladesh's 10-year weighted average real per capita GDP growth of about 5.6 percent helps to mitigate these weaknesses.
"The economy's structural growth rate is much stronger than sovereigns at a similar level of income, which is supportive of our credit ratings on Bangladesh."
Bangladesh's highly concentrated domestic political conditions may undermine the predictability of future policy responses, it said.
"The political landscape in Bangladesh remains polarised, with considerable power centred with the ruling Awami League. The opposition's representation in parliament remains extremely small, limiting checks and balances on the government."
As a result, Bangladesh's foreign direct investment has remained persistently low, given the country's evolving institutional settings, infrastructure deficiencies, high levels of perceived corruption and uneven business environment.