Bangladeshis shot dead by BSF near Lalmonirhat border: Families still waiting for bodies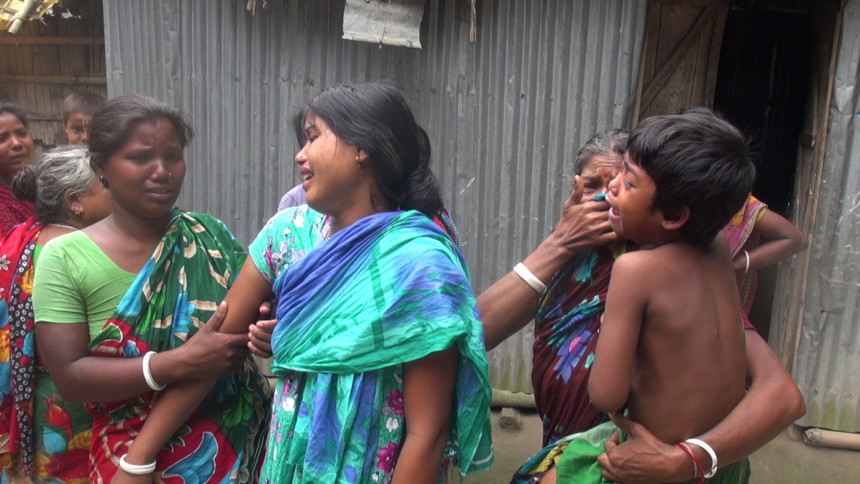 Family members of four Bangladeshis killed in border areas of Lalmonirhat -- from June to August this year -- are still waiting for their loved ones' remains, as India's Border Security Force is yet to hand them over.
The deceased are: Rifat Hosen (32) and Younus Ali (27) of Patgram upazila, Subal Chandra Ray (30) of Aditmari upazila, and Jagannath Chandra Ray alias Sagar (37) of Nilphamari's Dimla upazila.
According to BGB and police sources, Rifat was shot dead inside India by BSF while trying to smuggle cattle through the East Jagatber border in Patgram upazila on June 29.
Subal was shot dead by BSF while smuggling cattle through the Lohakuchi border in Aditmari upazila on July 14, they said.
Yunus and Sagar were shot dead, also while smuggling cattle, through Burimari border of Patgram upazila on August 29.
Contacted, Rangpur 71 BGB Battalion Commander Lt Col. Mir Hasan Shahriar Mahmud said that a letter had been sent to the BSF asking to return the bodies of the Bangladeshis killed near the Burimari border in Patgram upazila.
"But the process is being delayed due to the coronavirus situation. BSF will return the bodies to BGB after all official formalities are completed," the BGB official said.
However, Lalmonirhat 15 BGB Battalion Commander Lt Col. SM Tohidul Alam said that BSF has not yet informed BGB anything about the man killed near Lohakuchi border.
BGB is not sure whether the deceased was a Bangladeshi or an Indian.
"Therefore, BGB did not deem it necessary to issue any letter to BSF asking for the return of the body," he said.
"We have contacted the BGB several times to get my son's body back but they are not taking any action in this regard," alleged Ismail Hossain, Rifat's father.
"The BGB men are just saying that they are taking action. We are waiting every day," said Bulbul Hossain, father of Yunus.
"I don't know if I will ever get my son's body at all," said Pelku Chandra Varman, father of deceased Subal.