Bangladeshi journo, engineer freed in Libya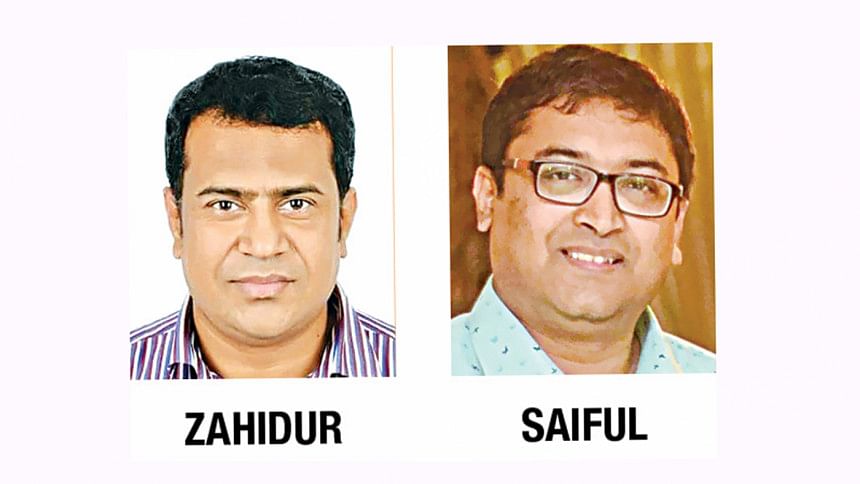 Bangladeshi journalist Zahidur Rahman and expatriate engineer Saiful Islam Tipu, who had gone missing in Tripoli, were released from the "safe custody" of the Libyan authorities yesterday.
"I've got a new life," Zahidur told The Daily Star around 9:45pm (Bangladeshi time) following his release around 7:00pm.
"I would like to thank the Bangladesh government, especially the foreign ministry and the ambassador to Libya, as well as the media for all their support. I am grateful to all of them."
He was kept at the Bangladesh embassy in Libya last night. The Daily Star talked to him over the phone with help of Ambassador Maj Gen SM Shamim-Uz-Zaman.
Tipu's father Darul Islam expressed his gratitude getting his son back.
"My son has just come home. The ambassador came and gave him to us," he told this correspondent over the phone from Libya.
Zahidur, a special correspondent of private television NTV, went to the war-torn country on March 21. He, along with Tipu and their Libyan driver Mohammad Khaled, went missing two days later.
After the embassy in Libya contacted various government departments there, the Libyan authorities on March 26 confirmed that the journalist and the engineer were taken into their "safe custody".
As part of efforts to have the two released, the ambassador met the country's vice president on Wednesday. The two have been released after that.
Talking to The Daily Star last night, the ambassador said, "With the cooperation of all, the Bangladeshi journalist and the engineer have been released. Engineer Tipu is with his family. Journalist Zahidur is now in the embassy. He will return home soon."
According to family sources, Zahid flew to London on a family visa by a Turkish Airlines flight earlier in the month. From there, he traveled to Ireland, Scotland, and then to Libya. He, along with Tipu and Khaled, visited several places in Tripoli and took pictures before being picked up by the Libyan authorities.
Khaled was released earlier.
Contacted, Zahid's wife Taslima Rahman said they were yet to be able to reach her husband. "We are extremely happy that he has been freed. We are waiting for his return home eagerly."
Shariful Hasan is a journalist writing for The Daily Star.