Bangladesh will do everything possible to establish peace: PM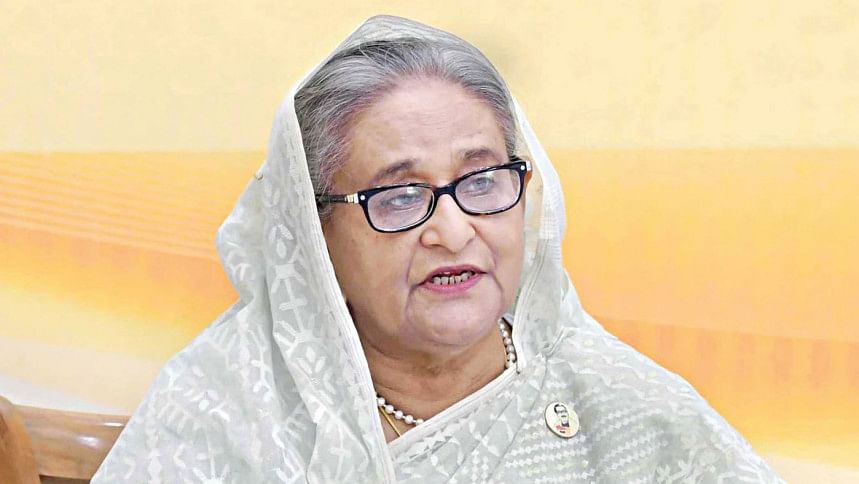 Prime Minister Sheikh Hasina today said Bangladesh believes in peace and would do whatever is required for peace.
"We believe in peace, not in conflict. Bangladesh always believes in peace and it would do all possible things, whatever is required to establish peace," she said while addressing an event marking International Day of UN Peacekeepers-2023 at the Bangabandhu International Conference Centre (BICC).
"We want peaceful solution to any conflict," she said. "We don't want arms race because women, children and each family suffer the most for it. Therefore, our goal is to protect them from the sufferings."
Sheikh Hasina said ensuring peace in the world is now more difficult than in the past.
"With the recent development and advancement of technology, new threats of evil forces are increasing," she said.
She said technology is giving people opportunities in all fields including socioeconomic development, but "we also see that the evil forces are also using technology creating confusion among the people and is taking away the peace of people's lives".
So, peacekeepers in UN peacekeeping missions have to deal with complex multidimensional situations, she noted.
"Hence, the need to enrich peacekeeping missions with advanced technology has increased manifold," she opined.
Sheikh Hasina mentioned that her government has always prepared Bangladeshi peacekeepers with the latest training to deal with complex situations in the world's most challenging and dangerous regions.
"We are ensuring the supply of clothing, other essential items, and modern military equipment compatible with the mission area's environment, weather, and terrain," she said.
In this connection, she mentioned that the government incorporated modern mine-resistant and ambush-protected vehicles to the Bangladesh contingents and state-of-the-art technology for peacekeeper communications.
"Incorporating modern technology and training are an ongoing process that we will continue in the future," she added.
Foreign Minister AK Abdul Momen, Chief of Army Staff General S M Shafiuddin Ahmed and the United Nations Resident Coordinator Gwyn Lewis also spoke at the programme.
At the outset of the event, a one-minute silence was observed to pay tribute to the lives of the heroes sacrificed for establishing peace.
A video documentary "Bangladesh in Global Peace" was screened at the ceremony.
The prime minister handed over awards to five deceased peacekeepers and their family members received it. She also handed over awards to five injured peacekeepers.
The premier later unveiled International Peacekeeper Journal.