Bangladesh sends mangoes to Asian friends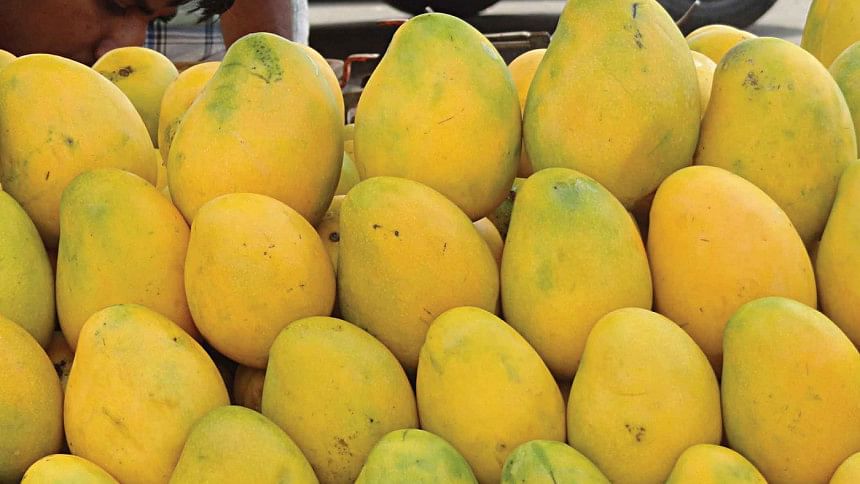 As the pandemic continues to put people in misery the world over, Prime Minister Sheikh Hasina is sending sweet mangoes to India and several South Asian and Middle Eastern countries recognised to be friends.
The mangoes being sent currently are Haribhanga, a variety farmed in the northern districts of Rangpur, Nilphamari, Dinajpur and Thakurgaon. The ones from Rangpur are the sweetest.
"We are sending 2,600 kg of Haribhanga mangoes for Indian President Ram Nath Kovind, Prime Minister Narendra Modi, and West Bengal Chief Minister Mamata Banerjee," a foreign ministry official told this correspondent.
The mangoes were sent to Kolkata in trucks through Benapole Port yesterday. After leaving some for the West Bengal chief minister, the rest will be taken from Kolkata to Delhi by Rajdhani Express.
A diplomat from the Bangladesh High Commission in Delhi said, "We are expecting the mangoes to arrive in Delhi by 10:00am on Monday. Then we will deliver Prime Minister Sheikh Hasina's gift to the Indian president and prime minister."
Foreign ministry officials said they traveled to Rangpur, the city of the prime minister's in-laws, last week to ensure the best ones are picked and hygiene is maintained.
"This is a goodwill gesture from the prime minister. She discussed the matter in the last cabinet meeting," said Agriculture Minister Dr Abdur Razzaque.
In the past, Bangladesh sent Hilsa, a wildly popular fish in India, to the dignitaries of that country. This is the first time Bangladesh is sending mangoes to India, a foreign ministry official said.
This is happening at a time when the people in Bangladesh are not generally happy with India because Bangladesh's coronavirus vaccination programme had to be suspended in April despite rising cases of Covid-19 after India stopped exporting the vaccine doses.
The Serum Institute of India had a deal to supply 30 million shots of the Oxford vaccine to Bangladesh between January and June this year.
But supplied only 7 million in January and February before the Indian government restricted the export of vaccines. The Indian government earlier sent 3.3 million doses as a gift to Bangladesh. But 1.6 million people in Bangladesh are still waiting to get their second shot of the vaccine.
Besides, a deal on the water of the Teesta river remains pending for a long time. It could not be signed due to last-minute opposition from West Bengal Chief Minister Mamata Banerjee in 2011.
An Awami League leader said Prime Minister Hasina is willing to maintain warm relations with the neighbours and settle all issues amicably and diplomatically.
He added that the PM herself is fond of the Haribhanga mangoes, which can't be grown in India.
Foreign ministry officials said mangoes are also being packaged for Indian chief ministers Biplab Kumar Deb of Tripura, Himanta Biswa Sarma of Assam, Zoramthanga of Mizoram and Conrad Sangma of Meghalaya.
"We are giving Haribhangas. As we continue to send mangoes as gifts to other countries, we may choose other varieties as well," the official added.
Himsagar, Lengra and Fazli are some of the varieties mostly grown in Rajshahi, Chapainawabganj and Satkhira. These mangoes have a reputation across the world and are exported to Europe and the US.
On July 1, Bangladesh sent Haribhanga mangoes to the Bhutanese King Jigme Khesar Namgyel Wangchuck and Prime Minister Lotay Tshering, a graduate from Mymensingh Medical College, who is fond of Bangladeshi mangoes.
Prime Minister Hasina will also send mangoes to Nepal, Sri Lanka and the Maldives.
Bangladesh also sent Haribhangas to Oman.
The Royal family of Saudi Arabia, the United Arab Emirates, Qatar, Bahrain, Kuwait and Jordan will soon receive the mangoes.
"We have a lot of people working in these Middle Eastern countries. We have warm relations with them all. The gifts are gestures of our friendship with them," the official said.