Bangladesh must push harder
Say international relations analysts on resolving Rohingya crisis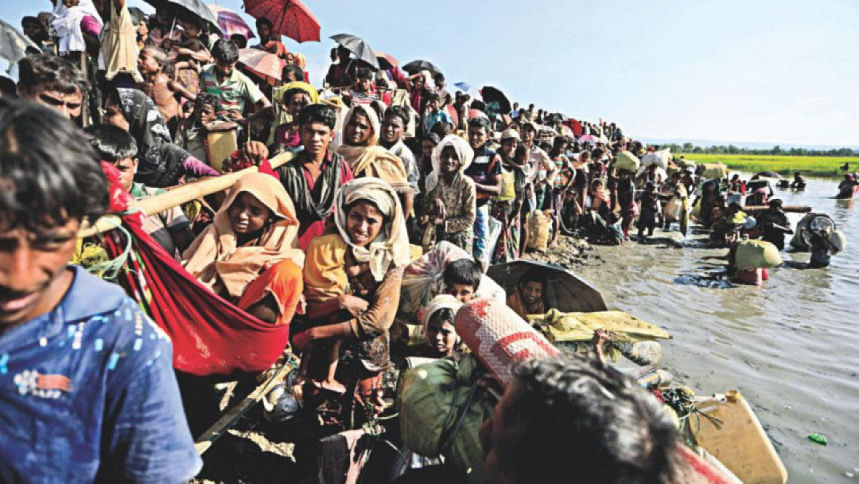 "This is the right time to go for a strong push for a solution to the Rohingya crisis."
Bangladesh needs to go for an emphatic push to resolve the Rohingya crisis, which otherwise could turn into a major global security issue, said international relations analysts yesterday.
At a webinar, they said the world cannot forget this crisis, created after decades of genocidal acts by the Myanmar authorities, in the midst of other crises.
Analysts observed that while Myanmar itself is going through a civil war-like situation since the military coup in February this year, the international community needs to start a peace-building process for Myanmar.
Bangabandhu Centre for Bangladesh Studies, Canada (BCBS) and Bangladesh Institute of International and Strategic Studies (BIISS) jointly organised the webinar titled "The Rohingya Exodus in Bangladesh: Regional and Global Security Implications".
Speakers said Myanmar is plunging into more turmoil, with many of the ethnic rebel groups joining the National Unity Government's forces to resist the Myanmar military, while nearly a million Rohingyas are getting even more frustrated, as there has been no repatriation since the latest exodus in 2017.
Human trafficking, drug smuggling and religious extremism could go from bad to worse in the refugee camps, they feared.
"I think this is the right time to go for a strong push for a solution to the Rohingya crisis," said Prof Imtiaz Ahmed of Dhaka University's international relations department.
Negating the notion that the Myanmar military is very strong, he said it is, in fact, a weak entity because it is killing its own people.
A lot of international conventions were formulated after the Second World War, and all of them will be considered ineffective, if the world does not take proper action on this issue, he added.
He proposed that Canada -- which, alongside the Netherlands, is providing logistic assistance to the ICJ case -- can act as a mediator.
The Rohingya issue is a global problem, not one that only concerns Bangladesh, he added.
Dr Kawser Ahmed, executive director of BCBS, said a peaceful solution to both the Myanmar and Rohingya problem is a must. "Military intervention or mere sanctions are not going to bring real solutions. There should be a peace process underway."
He said economically, Bangladesh has now become a strong country, and big regional powers like China, Japan and India have much stake in Bangladesh. Therefore, Dhaka should go for a strong diplomatic push to address the crisis.
Former Election Commissioner and security expert Brig Gen (retd) M Shakhawat Hussain said all major powers have business interests in Myanmar, and despite the Myanmar military's abuses of power, these countries are not taking any harsh actions.
Meanwhile, the National Unity Government has also not been recognised by any of the countries, he said.
He thinks the Rohingyas in Bangladesh are not going to go back to their country anytime soon, unless there is a major change in regional geopolitics.
Security expert Lt Gen (retd) Mainul Islam observed that Bangladesh is in a very tight condition, because of regional geopolitics. There should be incentives created for the three major countries – China, India and Japan – for resolving the crisis.
BIISS Director General Md Emdad Ul Bari, its senior research fellow Abu Salah Md Yousuf, and Bangladesh High Commissioner to Canada Khalil Rahman, among others, spoke at the webinar.