Bangladesh labour rules: Workers' interests 'mostly ignored'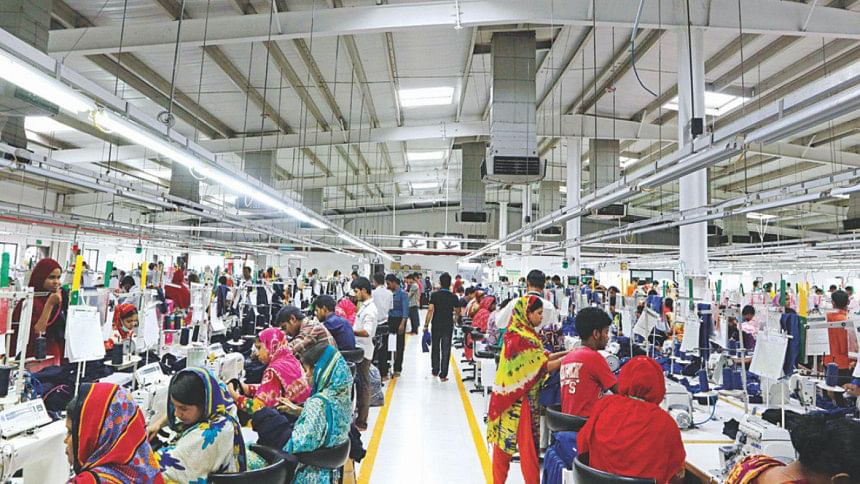 The recent amendments to the Bangladesh Labour Rules have curtailed workers rights and the changes have largely been made ignoring recommendations of workers' bodies, said labour leaders. 
Worker representatives and labour leaders last December made 56 recommendations for the amendment to Bangladesh Labour Rules-2015, but the government has turned a deaf ear to most of them, say worker leaders.
The amended Bangladesh Labour Rules were published by the labour and employment ministry in a gazette on September 1, 2022, and 101 amendments were made.
But of them, several crucial additions -- and more importantly, omissions -- will result in the curtailing of worker rights, including maternity leave rights.
The 56 recommendations were jointly made by Sramik Karmachari Oikya Parishad, one of the oldest labour movements and a platform of over a dozen labour rights bodies, and IndustriALL Bangladesh Council, a platform of 18 labour unions and federations.
According to the amended rules, workers can be retrenched during factory takeovers.
As opposed to terminations, companies retrench workers following certain procedures due to external reasons like revenue downturns.
The amendments will now allow retrenchments during factory takeovers, which was not the case before.
This means during takeovers, workers' rights will be curtailed.
"The [labour] law allows for retrenchment in instances where a factory is not getting orders and such. There is nothing mentioned about factory takeovers in the law. The retrenchment benefits given to workers are less than termination benefits. For example, workers employed for less than a year will not get any benefits other than arrears in case of retrenchment -- for termination, that time period is three months," explained Bangladesh Garment Industrial Workers Federation President Babul Akter (representative of IndustriALL).
The new rules also mean that workers employed for less than nine months in the factory will not be covered by group insurance schemes in case of workplace accidents, point out leaders.
"A worker is the responsibility of the factory from the day he or she joins. What if an accident happens then?" said Babul.
Also as per the amendments, workers will be paid less during their maternity leaves.
The Bangladesh Labour Rules 2015 stated that the daily wage of a worker on maternity leave would be based on the average of their previous three months' income. Following the amendments, only payment of the month preceding the leave would be taken into consideration.
"Most workers work overtime every day to make ends meet. During the last trimester of their pregnancy, garment workers cannot work overtime," said Razequzzaman Ratan, chair of Samajtantrik Shramik Front.
Readymade garment workers routinely state that it is mandatory for them to work overtime almost every day, as the extra income is vital to stay afloat in an economy where they struggle to meet living costs.
"We are calculating that they [pregnant workers] would be getting 20 percent less," said Babul.
Under the old rules, workers on maternity leave used to get two months before and two months after delivery of the baby. The new rules state that if labour is delayed by a certain number of days, those would be deducted from the two months following delivery, giving the new mother less time with the baby.
The platform of workers' bodies had recommended that workers being investigated or dismissed for misconduct be allowed to utilise external counsel, but this was not accepted.
At the moment, investigations into misconduct are done by a six-member committee, and the worker representative has to be from the factory.
"It is not possible for a worker to take a stand against the administration on behalf of another worker, for fear of losing his or her job," said Ratan.
Furthermore, the platforms had recommended an amendment to the current rule that says bonuses cannot be more than the basic salary of a worker. This recommendation was also not taken up, pointed out Ratan.
The leaders said they have been going back and forth with the government for three years, and had given the recommendations last December, but to no avail.