Bangladesh-India bus service likely to resume June 10
Mitali Express starts operation today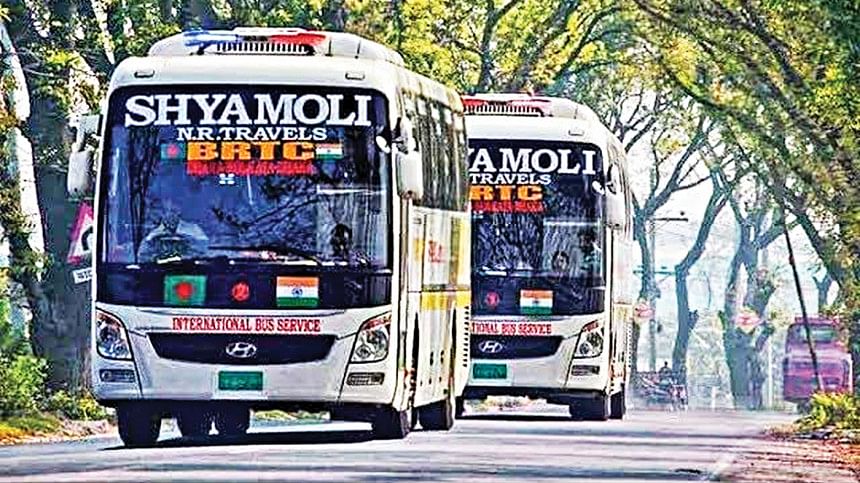 Bus service between Bangladesh and India is likely to resume on June 10, after remaining suspended for over two years due to the pandemic.
Although no formal order regarding the resumption has been issued, Bangladesh Road Transport Corporation (BRTC) and its operator Shyamoli NR Travels, were verbally informed about the development, sources said.
The development came days after railway service between the two neighbouring countries resumed on Sunday.
Both bus and train services were suspended in March 2020, when the deadly coronavirus hit Bangladesh.
Meanwhile, Mitali Express, the third passenger train to be operated between the two countries, will start running from today.
Railways Minister Nurul Islam Sujan, who is now in India, and Indian Railways Minister Ashwini Vaishnaw will jointly flag off the new train virtually from Rail Bhavan in New Delhi at 9:25am, railway sources said.
BUS SERVICE
Before suspension of services, buses were operated on five cross-border routes: Dhaka-Kolkata-Dhaka, Dhaka-Agartala-Dhaka, Dhaka-Sylhet-Shillong-Guwahati-Dhaka, Agartala-Dhaka-Kolkata-Agartala, and Dhaka-Khulna-Kolkata-Dhaka.
Discussion over resumption of bus service came to the fore after both countries decided to resume train service.
Suvenker Ghosh Rakesh, managing director of Shyamoli NR Travels, said although they did not get any written directives, they were instructed to get ready for resuming services on June 10.
"And we are ready to resume services," he told The Daily Star yesterday.
Sources said authorities in Tripura have already issued directives to resume Dhaka-Agartala-Dhaka service on the day.
MITALI EXPRESS
Mitali Express, inaugurated by the prime ministers of both countries on March 26 last year, will use Chilahati-Haldibari rail link.
Its operation, however, did not start due to the pandemic.
The fully air-conditioned direct train with 10 coaches will be operated twice from Dhaka and twice from the NJP (New Jalpaiguri) every week, the officials mentioned.
After flagging off, the train will depart from NJP at 11:45am and arrive in Dhaka at 10:30pm the same day, sources said.
Customs formalities will be completed at Dhaka's Cantonment Station and the NJP Station.