Bangladesh expresses dismay over slow pace of verification of Rohingyas by Myanmar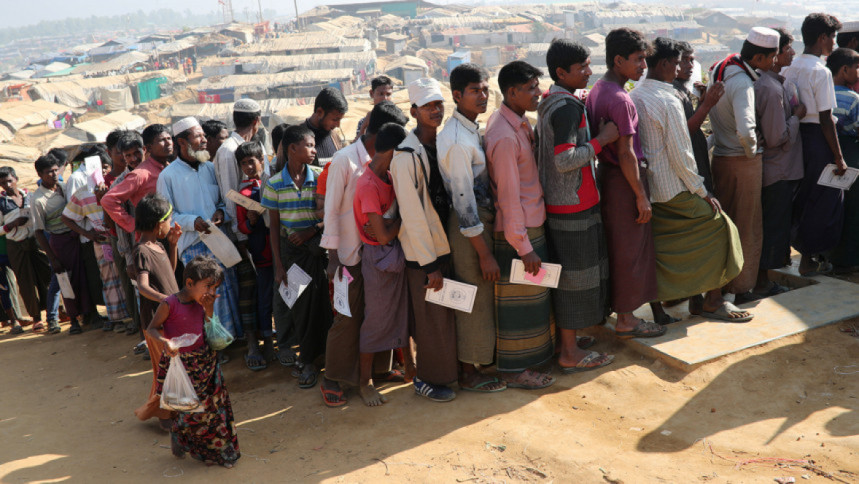 Bangladesh has expressed dismay over the slow pace of verification of past residency of Rohingyas by Myanmar, while offering all cooperation under the three bilateral instruments to expeditiously complete the verification process.
The dismay was communicated at the first ever meeting of the newly formed technical level "Ad-Hoc Task Force for Verification of the Displaced Persons from Rakhine" held today virtually between Bangladesh and Myanmar.
Shah Rizwan Hayat, Refugee Relief and Repatriation commissioner (RRRC), led the Bangladeshi delegation while Ye Tun Oo, deputy director general of the Ministry of Immigration and Population, led the Myanmar side.
According to foreign ministry officials, Bangladesh had handed over names of 8.4 lakh Rohingyas to Myanmar but so far only about 42,000 were verified.
Some 750,0000 Rohingyas fled to Bangladesh following brutal military campaigns in 2017.
Despite an agreement signed on repatriation and several attempts, Rohingya repatriation did not begin. For over two years, there were no bilateral meetings.
There was also no formal communication between Bangladesh and Myanmar since the military took control of the country in February last year.
Late last year, Myanmar proposed a new committee on the verification of the Rohingya names. Accordingly the committee was formed and its first meeting was held Thursday.
According to a foreign ministry statement, at the meeting both sides expressed readiness to continue working closely to address the reasons causing delay in the verification of the Rohingyas.
Shah Rizwan Hayat highlighted Prime Minister Sheikh Hasina's humanitarian gesture to give temporary shelters to the Rohingys and said solving difficulties and gaps in pending verification will pave the way for the early commencement of the sustainable repatriation of the Rohingyas.
The repatriation also demands creation of a conducive environment in Rakhine and confidence building among them, he said.
Detailing the technical difficulties and information gaps, the Myanmar delegation assured their cooperation to complete pending verification.
He expressed optimism that the Task Force would be instrumental to complete the verification process.