29th Asean Regional Forum
Bangladesh can become a regional hub: Momen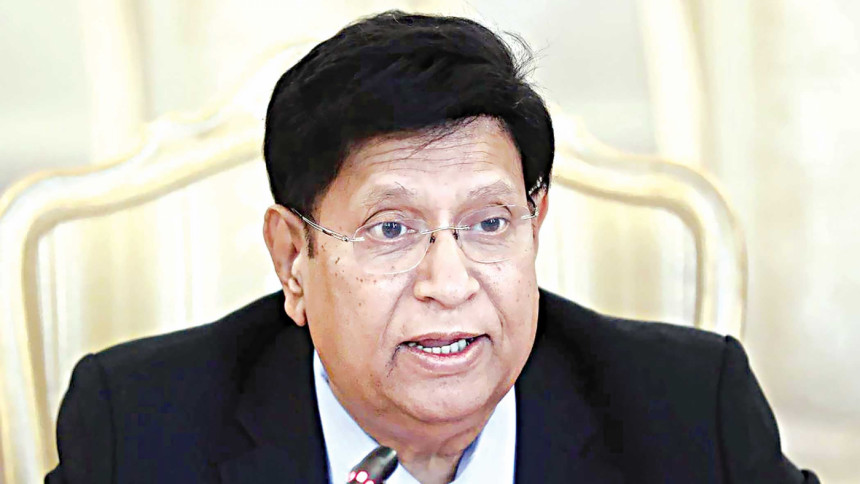 Bangladesh told Asean leaders its vision of becoming a hub of road, rail, riverine, maritime and air connectivity for landlocked South Asian and Southeast Asian countries.
"Bangladesh believes that maximising the Bay of Bengal's potential and improving connectivity can revitalise the region," Foreign Minister AK Abdul Momen told the two-day 29th Asean Regional Forum (ARF) in Cambodia, which ended yesterday.
He said the country is the link between two of the world's most vibrant economic regions, Southeast Asia and South Asia, and can play a vital role towards regional cooperation on all fronts.
Momen highlighted Bangladesh's massive investment in developing and upgrading infrastructure, including land ports, airports, roads and rail networks.
He expressed the country's aspiration to collaborate and cooperate with Asean by becoming a "sectoral dialogue partner". He sought support from all Asean countries in this process.
He emphasised on collective efforts by Asean leaders to tackle challenges faced by the region, including the Rohingya crisis.
Momen mentioned that in the fifth year of the Rohingya crisis, not a single of around a million Rohingya people has been repatriated to Myanmar.
He sought more focus and active support from ASEAN Regional Forum countries in strengthening ongoing efforts to help create an environment within Myanmar that will encourage Rohingyas to return.
Momen said Myanmar secured high foreign direct investment despite the genocide it committed. He also pointed out that even after the 2017 Rohingya crisis, trade and investment of EU countries increased substantially.
Noting that Rohingya repatriation happened in the 1970s, 1980s, and 1990s, as there were more economic sanctions on Myanmar. He requested western leaders to impose strong economic sanctions as Myanmar otherwise is not likely to listen to the world leadership.
He said delaying the repatriation process may pose a security threat to the entire region and beyond.
Momen made six proposals for ensuring resilient economic cooperation in the region: strengthening cooperation, collaboration and shared responsibility between and among countries; research, investment, and advanced technology sharing for trade promotion; rapid development of connectivity; and common action to mitigate the adverse impacts of climate change.
The proposals also include marine resource exploration and creating an energy hub in this region.
Momen also highlighted some key challenges, which include recurring waves of new variants of Covid-19, global turmoil due to conflict in Europe, climate change, economic recession, and food and commodity crises.
These challenges can only be adequately and effectively addressed through mutual trust and cooperation underpinned by multilateral arrangements like ARF, he said.