Bangladesh can avert famine
Says PM, urges secretaries to take precautionary measures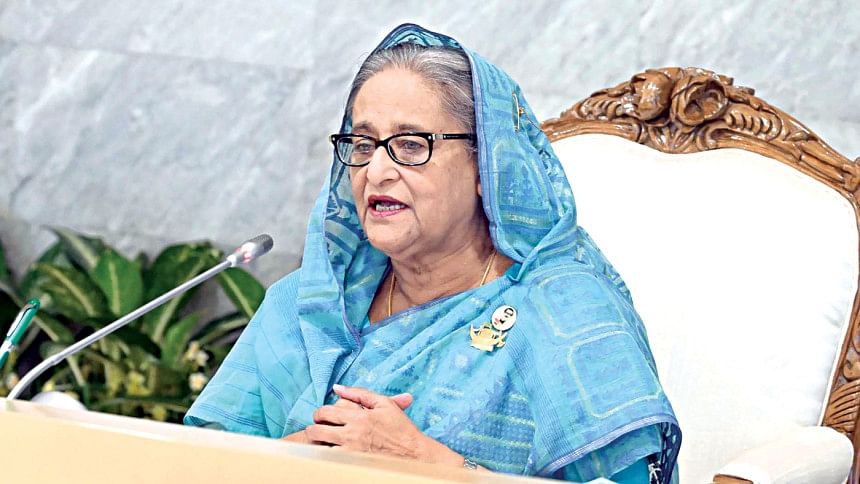 Prime Minister Sheikh Hasina yesterday asked the secretaries to take precautionary measures alongside making people aware that Bangladesh can avert the looming famine.
"This is not my word. It is said globally that a famine may emerge before the world. We have to take measures in advance from now on so that the looming famine never strikes our country," she said while delivering her introductory speech in the Secretaries' Committee Meeting at The Prime Minister's Office.
Hasina made a number of suggestions for implementation which include being economical in public expenditure, setting priority development projects, diversifying exports, attracting investments, preparing skilled manpower for the fourth industrial revolution, making people aware so that they use all available land for cultivation, and exercising austerity in electricity and gas use.
She said when the world economy is reeling from the pandemic, the Russia-Ukraine war, sanctions and counter sanctions have created economic recession across the globe, adding that one or two countries are getting benefit of the crisis while rest of the countries including the developed ones have been suffering immensely.
"Even developed countries are facing severe crises for which their economic growth and reserves have been declining. Inflation has increased manifolds across the globe… It also hits our economy," she said.
Hasina said Bangladesh has enough reserves of the foreign currency despite the global recession.
Due to the war, the prices of fertiliser, wheat, rice, edible oil, and fuel have increased manifolds alongside the transportation costs that resulted in shrinking reserves globally, she said.
"We're not going to be in danger … but we have to take measures in advance so that we are not in trouble in future. We're taking all the measures carefully to this end,'' she said.
"Grow food whatever you can such as vegetables and fruits using the land you have to overcome the crisis and help other countries in their need," she said.
She asked the secretaries to take steps to grow food that are imported so that dependency on imports is reduced.
Hasina he urged the countrymen to show austerity in using the electricity and gas as their prices have increased globally due to the war.
The prime minister said priority should be given to diversifying exports to earn more foreign exchange.
She put emphasis on preparing skilled manpower so that they can compete with the ever-changing world. The demand for a competent workforce has been increasing at home and abroad, she said.
The premier said her government is setting up 100 economic zones across the country which will also require skilled manpower.
She asked the secretaries to take time-befitting measures to attract local and foreign investment.
"But we have to fix our priority projects keeping the current situation in mind… We will get a return if we can quickly complete the priority projects," she added.