Bangladesh bags two prizes at Zayed Sustainability Awards in UAE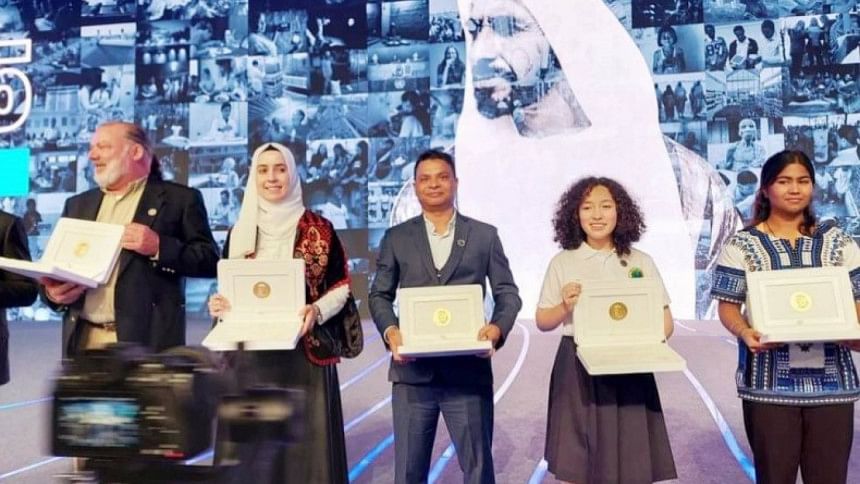 Bangladesh won two prizes in two out of six categories of the Zayed Sustainability Awards in the UAE.
The prizes were in "Water" and "Global High Schools" categories.
UAE President Sheikh Mohamed Bin Zayed Al Nahyan handed over the prizes to the winners at the Abu Dhabi Sustainability Week opening ceremony.
Several heads of the states and governments including the president of the Republic of Korea were present at the event.
Bangladesh ambassador to the UAE Abu Zafar was also present at the event and congratulated the winners and commended their innovative works that raised the flag of Bangladesh very high in this global event.
NGO Local Environment Development and Agricultural Research Society (LEDARS) working on integrated water resource management approach in disaster-prone coastal areas like the Sundarbans and Satkhira won the prize in "Water" category and received $600,000.
Starting its journey in 1996, it has been supporting vulnerable communities with water management solutions to make saline ground water suitable for drinking and cultivating crops.
On the other hand, Dhaka Residential Model College working on nutrient conservation secured the school category prize with $100,000.
Mentionable, the Zayed Sustainability Prize, an evolution of the Zayed Future Energy Prize, is the UAE's pioneering global award in sustainability and a tribute to the legacy of the late founding father of the UAE, Sheikh Zayed bin Sultan Al Nahyan.
To recognise and reward the achievements of those who are driving impactful, innovative and inspiring sustainability solutions across five distinct categories -- Health, Food, Energy, Water and Global High Schools, it has been awarding since its journey in 2008.