Bangladesh assumes IORA chairmanship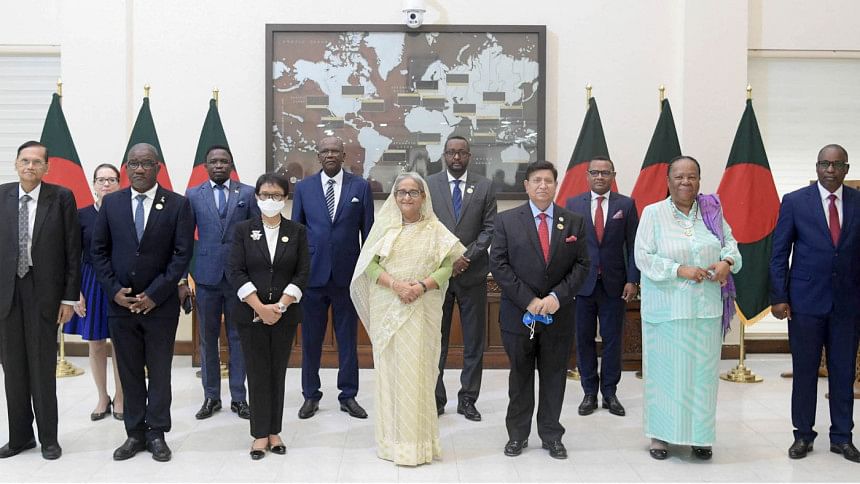 Bangladesh yesterday assumed chairmanship of Indian Ocean Rim Association (IORA) while Russia was added as new dialogue partner at its 21st Council of Ministers' meeting.
"This event is very special for Bangladesh as this time in Dhaka we assumed the chairmanship of the IORA ... and we are very pleased to have the number of ministers in-person, even amid the pandemic," Foreign Minister AK Abdul Momen told the media yesterday evening at a briefing after concluding the meeting at Hotel InterContinental.
IORA is an inter-governmental regional organisation with 23 member states and nine dialogue partners aimed at strengthening regional cooperation and sustainable development within the Indian Ocean region.
More than 15 IORA member states with 11 ministerial-level delegations joined in-person while others joined virtually.
Under the theme of 21st Council of Ministers, "Harnessing the opportunities of the Indian Ocean sustainability for inclusive development", Bangladesh proposed "IORA-Dhaka Development Initiative (IORA-DDI)" for inclusive regional development.
The foreign minister said the meeting established a working group on disaster risk management under the coordination of India. "We also finalised IORA guidelines for humanitarian assistance and disaster relief," he said.
At a strategic dialogue on Covid recovery, all IORA members emphasised on getting Covid vaccine equally for reasonable price.
Momen said Bangladesh also reiterated its position regarding Indo pacific region saying that Dhaka would like to see open, free, and inclusive Indian Ocean without any particular dominance.
He said IORA would chalk out its own vision of the Indo-Pacific based on international law and shared prosperity for all.
Minister of Foreign Affairs of Comoros Dhoihir Dhoulkamal, Indonesian Foreign Minister Retno Marsudi, Minister of Foreign Affairs and Cooperation of South Africa Pandor, Minister of Foreign Affairs of Sri Lanka Prof GL Peiris, Minister of Livestock and Fisheries of Tanzania Mashimba Mashuri Ndaki, Ministry of Blue Economy and Fisheries of Tanzania Abdullah Hussein Kombo, Minister of State for South Asia, United Nations and the Commonwealth of FCDO Lord Tariq Ahmad of Wimbledon, Chief Administrative Secretary of Kenya Ababu Namwamba, Permanent Secretary of Madagascar Ratsimandau Tahirimiakadaza,
State Minister of Foreign Affairs and International Cooperation of Somalia Belal Mohamed Cusman, and Deputy Assistant Secretary of USA Kelly Keiderling attended the Council of Ministers in-person.
Earlier in the day, Prime Minister Sheikh Hasina stressed the need for making best efforts to develop blue economies by the IORA members.
She said this while a delegation of 12 IORA member countries had a meeting with her at the PMO, PM's Press Secretary Ihsanul Karim told newsmen.
Hasina also put emphasis on strengthening the bilateral relations among IORA countries.
She said, "Though there are enormous potentials, our intra-region investments are modest. There is ample scope for expanding the bilateral trade and investment relations among the IORA member countries."