Bagerhat's coconut oil mills: downfall of a promising industry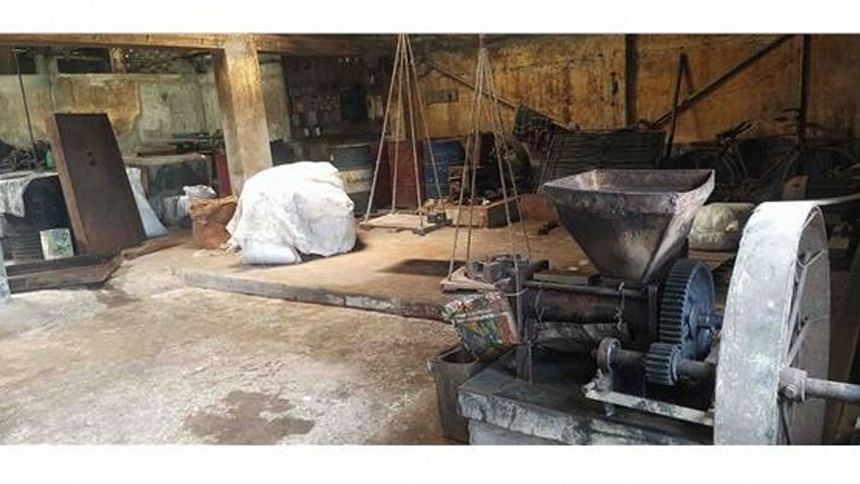 In the eighties, the coastal district of Bagerhat used to meet the lion's share of country's coconut oil demand by producing about 26 metric tonnes of oil every day at 60 mills across the district.
The industrial area of Bangladesh Small and Cottage Industries Corporation (BSCIC) in Bagerhat alone had 17 coconut oil mills back then.
But now only 16 out of the 60 coconut mills in the entire district of Bagerhat are struggling to stay in business. Among the remaining 16, six are in BSCIC industrial area while the rest are in Jatrapur, Chulkathi and C&B Bazar areas -- all in Sadar upazila.
With daily production down to less than one-tenth of what it used to be, thousands of factory workers lost jobs, especially over the past 15 years.
Industry insiders and millers said a rise in the demand for coconut water, which is found inside a young coconut, across the country is contributing to the fall in the supply of dried coconuts, the main raw ingredient of coconut oil. 
The unavailability of dried coconuts coupled with an influx of impure and chemical-tainted coconut oil in the market are causing the number of coconut oil mills to shrink every year, they also said.
Jiban Krishna Saha, owner of a coconut oil factory named Saha Enterprise in the BSCIC area, said since its inception in 1998, the mill initially had a daily production of 500 kilograms and its daily production soon rose to as high as 900 kg to keep up with demand.
But the market share of locally produced coconut oil started to decline later on, especially after 2006, when a huge number of traders and marketeers penetrated into the market with foreign brands in attractive packaging.
To make matters worse, supply of dried coconuts started to fall due to a rise in demand for coconut water over the last few years, resulting in the mill's daily production to fall down to as low as 200 kg, he added.
Swarnali Auto Coconut Oil Mill is among the factories that had to be closed down after being unable to cope with its operational costs with the revenue earned from dwindling sales at wholesale level.
Owner Shankar Saha said his business was hit hard firstly by scarce supply of dried coconut and then by the economic downturn caused by the corona pandemic.  
Dried coconut trader Jalal Sheikh, from Kachua area, said, "Even a decade ago, I used to be able to procure five to six thousand pieces of dried coconuts from different markets. But now, finding more than a thousand coconuts is not possible from the markets. Supporting a family with such business is much too difficult now."
Tara Saha, another dried coconut trader, said riding on a high demand for coconut water in the country, production of coconut is on the rise, but the production of coconut oil is falling sharply due to the same reason.
The government should step in to save the local industry, as chemical-tainted and cheap substances are being sold in the name of coconut oil while the prices of pure coconut oil, produced locally, have gone out of the reach of the lower middle class due to the shortage of dried coconuts, said coconut oil trader Salam Pike.
Coconut grower Sanatan Das said rather than allowing the fruit to dry in the tree, he prefers selling green young coconuts from his one hundred trees to save those from rats.
Besides, young coconuts sell for higher prices and its frequent harvesting results in higher yield, he also said.  
Workers of the oil mills are also facing economic hardship due to the downtrend of the industry.
Worker Rina Khanam said she could take home Tk 3,000 to Tk 4,000 each month about eight years ago, but now she can barely make Tk 1,000 in a month.