Automated Traffic Signal: Money thrown down the drain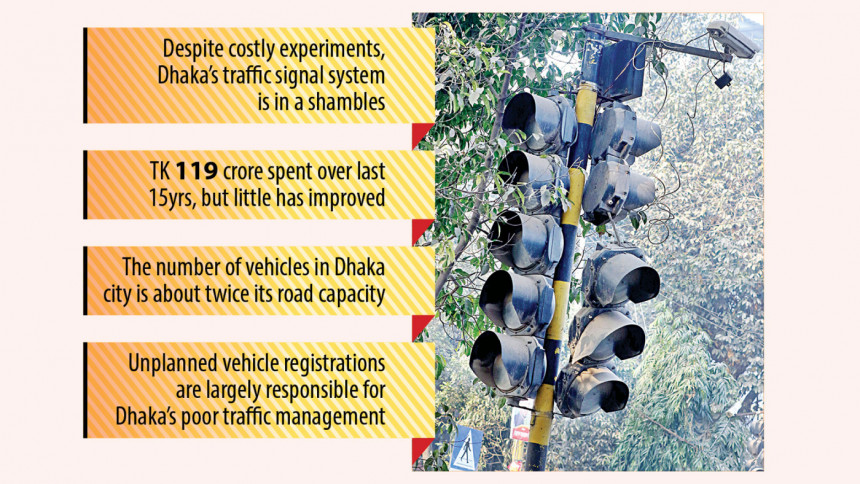 Over the last 15 years, the government has spent Tk 119 crore to upgrade Dhaka's traffic signal system. The plan involved some ambitious experiments to modernise the capital's traffic control system, including digitising signal lights and installing timer countdown and digital display boards in some major intersections.
But nothing seems to have worked, as traffic in the city of more than 1.5 crore people remains as chaotic. In some cases, it has turned worse as traffic cops reverted to the old system of manual control, using their stretched hands to control vehicular movement.
Ropes, cones and bamboo fences are also used to control the disorderly city traffic, one of the worst in the world.
In the World Traffic Index 2020, Dhaka has ranked 10th in terms of poor traffic management among 228 cities, according to a report published by the largest user-contributed database Numbeo.
Last year, the country lost an estimated Tk 55,685 crore due to traffic congestion in Dhaka city alone, according to Buet's Accident Research Institute (ARI).
Urban transport experts blame unthoughtful traffic management, unrealistic projects and unplanned permission for new vehicles that are way beyond the road capacity for the situation.
Poor road condition, rickety public transport, jaywalking and movement of non-motorised vehicles also contribute to worsening the gridlock.
In many cases, projects were taken up without considering the rising number of vehicles and road conditions, experts said.
"Basically, our traffic signal system has become a joke," noted transport expert Prof Shamsul Hoque told The Daily Star.
A 2015 study by Japan International Cooperation Agency (JICA) found Dhaka's traffic volume was over 1.5 times higher than its road capacity that year, Prof Shamsul said.
The situation has worsened now. As of December 2021, at least 17,80,597 motorised vehicles were registered under Bangladesh Road Transport Authority (BRTA) in Dhaka.
Adil Mohammad Khan, general secretary of Bangladesh Institute of Planners, said a modern city requires a road network of 20 to 25 percent its size. Dhaka's road network is just 8 percent of its size.  
COSTLY EXPERIMENTS
In 2001, Dhaka's traffic control system saw a major change with the introduction of automatic signals under Dhaka Urban Transport Project. With funding from the World Bank, nine traffic signals were set up in 2001-02 and 59 more in 2005, spending Tk 13 crore.
It soon became dysfunctional mainly due to poor maintenance, the WB said in a report to the government in 2006.
Officials say the 68 automatic signal lights were meant to synchronise the signal system, but they worked rather independently and did not work as intended.
Later in 2012-13, the two Dhaka city corporations restored the signal lights by adding solar panels and timer countdown systems at 70 crossings, under another World Bank-funded project. 
In the first phase of the project, solar panels and timer countdowns were installed for Tk 15 crore in 2011-2012. In the second phase, another TK 11.5 crore were spent to set up new signal lights in 2013.
But the trial run failed, forcing the city corporations and traffic police to ditch the new signal system and return to manual traffic management.
"The system was initiated based on a flawed plan, as traffic volume and speed were not considered, " said a city corporation official.
The city corporation later introduced remote controls to use the signal lights, but the experiment did not last even a month.  
"Timer countdown and solar panels are additional features, which they introduced without having any experience. Perhaps, the inclusion was done to make the project size bigger. We see a lack of good governance here," said Prof Shamsul Hoque, former head of ARI at Buet.
"We are allowing vehicles without considering the road capacity. No signal system will work with this existing pressure of vehicles. We must think of striking a balance between road capacity and number of vehicles," he added.
Meanwhile, 17 large and 14 small digital boards displaying traffic rules and speed limits were set up at some key points, but they remain largely ignored. The Dhaka Metropolitan Police set up those displays at a cost of Tk 27 crore.
Many of them have since been removed for ongoing projects like Metro Rail and U-loops.
Two years ago, the High Court directed the authorities to submit a report on the "mismanagement" of the traffic signal monitoring system.
A committee headed by a joint secretary of the home ministry formed after the directive is still working on the report, officials said.
Asked about their findings, Monibur Rahman, additional commissioner (traffic) of DMP, said he could comment only after the committee completed its work.
'INTELLIGENT' SYSTEM IN LIMBO
Six years ago, the government undertook an even more sophisticated project to bring Dhaka's four crossings -- Paltan, Phulbari, Mohakhali and Gulshan 1 -- under a single automatic traffic control system.
Each of these crossings is notorious for bad traffic, and the pilot project aimed to improve traffic management in these intersections.   
Originally scheduled to complete in June 2017, the Intelligent Transportation System (ITS), as it is officially called, is yet to come into operation.
A joint initiative by Bangladesh and Japan governments, the project got four extensions so far, and its estimated cost shot up from Tk 36.37 crore to Tk 52 crore when the cost was last revised in 2019.
By November 2019, the ITS system -- including ultrasonic vehicle detector, vehicle image detector, CCTV to keep track of traffic volume and control the traffic signals -- got installed at the four crossings.
The following year, two special computers with ITS software were brought from Japan, but one of them was stolen from a warehouse of Dhaka South City Corporation (DSCC) before installation. 
After the theft, the authorities ordered suspension of the project for two years. It was eventually revived after Dhaka Transport Coordination Authority in December 2020 sent a proposal to Roads Transport and Highway Division to procure a server through internal budget adjustment, without increasing the total project cost.
The project deadline was then extended to June 2021 without any cost increase.
Project Director Mohammad Rabiul Alam said they are now seeking another extension, up to July this year.
EXPERTS ARE SCEPTICAL
Experts say they have doubts about its success.
Given the number of vehicles and their unpredictable movements, digital traffic signals will help little to ease the gridlock, they said.
"It is very difficult to make the digital traffic signal functional in Dhaka due to its unpredictable volume of traffic," said Kazi Md Shifun Newaz, an assistant professor of ARI.
He suggested reducing intersections and building circular roads to ease the congestion, created by heavy traffic crossing the intersections after coming from different lanes and by-lanes erratically.
Prof Shamsul said the huge volume of traffic during peak hours is the main reason why the digital signal system has failed.
If well managed, even low-cost signal systems can be effective, he said, citing the example of India where traffic cops operate the signal lights manually depending on the traffic rush.
"But the authorities in our country set up a signal system thinking it will solve everything. The reality is the system will only minimise the workload of police, not the problem," Prof Shamsul said.