Attack on Khulna physician: doctors postpone strike for 7 days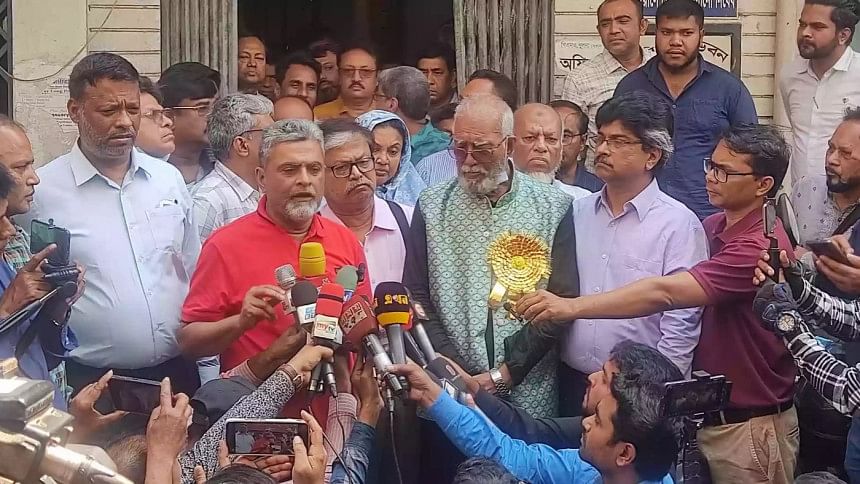 The strike enforced by doctors in Khulna district hospitals -- protesting the attack on a fellow physician, allegedly by a police officer and others -- has been postponed for a week.
The strike was postponed after three days, following assurance of taking measures in this regard from the authorities concerned.
Soon after the postponement, the physicians joined work in respective hospitals today.
Dr Baharul Alam, president of Khulna unit of Bangladesh Medical Association (BMA), said they postponed the strike for seven days upon assurance from Khulna City Corporation (KCC) Mayor Talukdar Abdul Khaleque and local administration of taking action, including arrest of the accused police officer.
Earlier, a tripartite meeting was held among the demonstrating physicians, the delegation of Directorate General of Health Services (DGHS) and the local administration this morning. Awami League Organising Secretary SM Kamal was also present in the meeting.
After the meeting, BMA leader Baharul came up with the declaration of the postponement around 11:40am.
On Friday, a series of meetings between the physicians and the DGHS delegation were held but no one could reach a point to call off or postpone the strike.
The DGHS delegation led by its Additional Director General (admin) Dr Rashed Sultan went to Khulna from the capital to address the issue on Friday and held several meetings with the physicians.
On February 25, Dr Sheikh Nishat Abdullah, head of Burn and Plastic Surgery Department of Sheikh Abu Naser Specialised Hospital, was assaulted, allegedly by a patient's relatives including ASI Naim, at a nursing home in Sheikhpara of Khulna city during a surgery.
Protesting the attack, BMA Khulna unit went on a 24-hour work abstention from Wednesday to Thursday morning.
The physicians continued the strike for three consecutive days to press home their demand.
The strike caused immense suffering to hospitalised patients and others who sought medical treatment.
On Thursday, ASI Naim was attached to the police lines after withdrawal from his workplace in Satkhira when the allegation of assaulting a physician surfaced.