'Anchal' saving lives
Parents await reopening of community-based initiative to protect children from drowning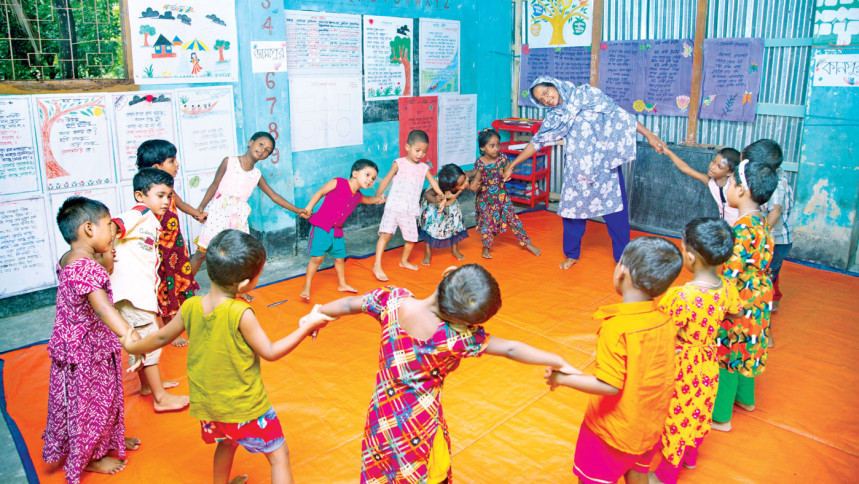 In low and middle-income countries, many children die every year by drowning, usually when the parents are occupied with household chores or wage-earning activities.
According to World Health Organization (WHO), 43 percent of children die due to drowning. Every day, at least 30 children aged under five die by drowning.
According to a 2017 WHO report, interventions like community-based institutional supervision during the parents' busiest hours have proved to be useful.
Anchal, a community-based daycare centre in Bangladesh, operated by Centre for Injury Prevention and Research, Bangladesh (CIPRB), has been helping prevent such incidents by providing institutional supervision for vulnerable age groups (under-five) from 9:00am to 1:00pm through trained caregivers.
CIPRB's study also found that death by drowning has dropped by 86 percent in areas where Anchal's free of cost interventions are at play.
"Anchal is a symbol of safety, security and mother's love. It's a day-care centre where parents drop their children at the start of the day and pick them up later, after they are done with the day's work," said Dr Aminur Rahman, deputy executive director of CIPRB.
The project is currently supported by Royal National Lifeboat Institution and Bloomberg Philanthropies. Since its inception in 2012, Anchal has been serving around 75,000 children in 3,084 centres.
However, following the government's decision to close educational institutions for containing the spread of Covid-19 in March 2020, all Anchal centres remained closed.
According to CIPRB data, at least 36 children between March 2020 and November 2021, all beneficiaries of the project, died in Barishal alone due to drowning.
One of those kids was four-year-old Arifa of Kalapara upazila in Patuakhali. Arifa, the youngest of four siblings, drowned in a pond nearby her uncle's home in May 2020. She went there without informing her mother.
According to Arifa's mother Rebeka, Arifa started going to the nearby Anchal centre some eight months before her death, during Rebeka's busy hours of maintaining the household.
"If the centre was open, my daughter's fate could be different," said Rebeka.
According to Nazmun Nahar Jhuma, locally known as "Anchal Ma" (child-caregiver), of Baliatali centre of Kalapara, all the parents are now eagerly waiting for the centres to reopen.
"We are waiting for government orders to start all in-person activities at pre-schools," said Rehana Parveen, ECD specialist of the International Drowning Prevention and Research Division of CIPRB.