Allowance too scanty to survive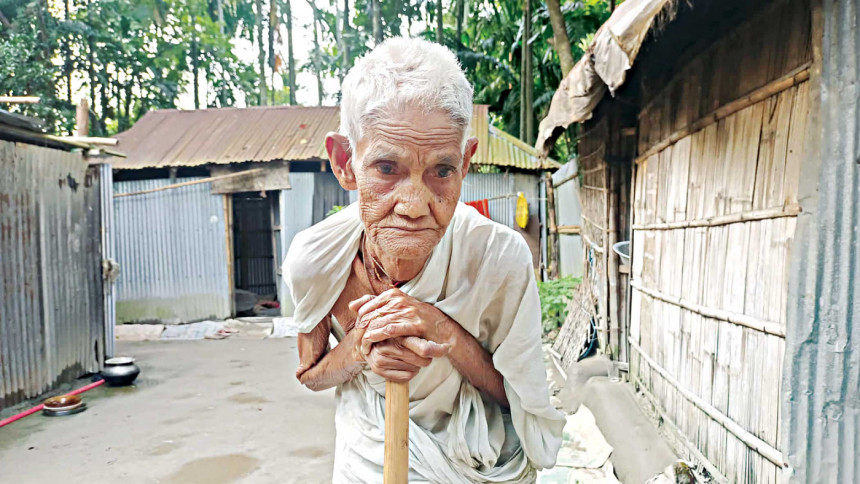 Sukhobala Sen, 90, has been receiving old age allowance of Tk 500 for eight years but she can hardly afford to buy her prescribed medications for a week with the meagre amount of money.
She has to depend on her day labourer son Bhabani Chandra Sen, 55, of Rasulpur village of Baura union in Patgram upazila of Lalmonirhat district.
"If the allowance were Tk 3,000 per month, I could survive the whole month easily," She said adding that her son has to struggle to run his family as the prices of essentials have soared many times.
"I don't want to be a burden to my son," Sukhobala also said.
Physically inability widow allowance beneficiary Kandri Bala (58) is spending her days in despair and anxiety. She is not getting food support properly. She gets widow allowance Tk 500 every month. With this money she can't go well for a week. She could have somehow survived if she had received an allowance of Tk 3000 every month.
Physically challenged Kandri Balar, 58, a beneficiary of widow's allowance, has been passing days in despair. She gets a monthly allowance of Tk 500. However, she cannot manage the expenses of a week with the money. She also echoed Sukhobala urging that the government raise the allowance to Tk 3,000.
Khodeja Bewa, 68, an old age allowance beneficiary of Sardob village in Kurigram Sadar upazila, told The Daily Star that the amount she gets is too little to survive.
"I cannot run a month with the money but have nothing to do," she said.
According to the Department of Social Services that 1,48,919 people in five upazilas of Lalmonirhat and 2,24,970 people in nine upazilas of Kurigram are getting government allowance.
Most of the beneficiaries are elderly peple. Government pays old age allowance Tk 500, widow allowance Tk 500, disability allowance Tk 750, disabled student allowance Tk 750-1300, special allowance of transgender people Tk 600, special education allowance of Dalit and disadvantaged people Tk 500, education allowance for transgender and dalits and disadvantaged people Tk 700-1200 every month.