PADMA BRIDGE
All set for grand opening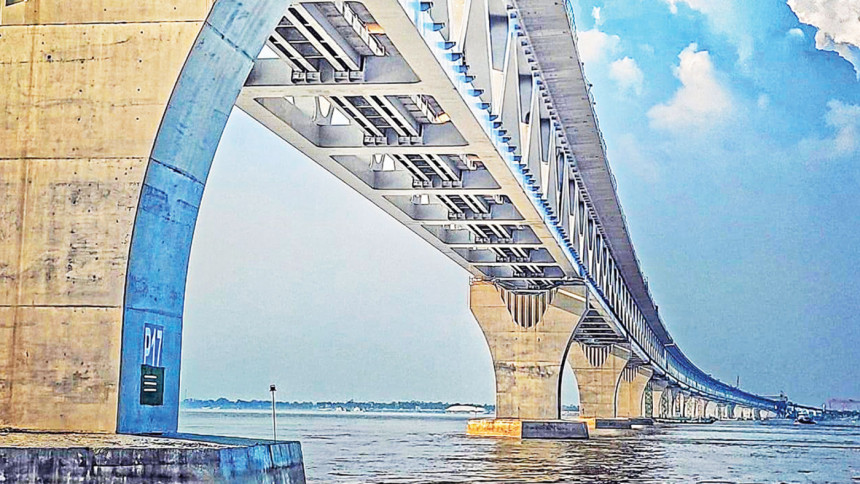 No truck or covered van would be allowed to operate on highways connected to the Padma Bridge -- from the morning of June 24 to that of June 26 -- to facilitate the inauguration of the Bridge on June 25.
Prime Minister Sheikh Hasina, on June 25, will inaugurate the country's longest bridge. It will be opened to the public at 6:00am on the following day.
The authorities will not collect tolls from the vehicles for using the three bridges on Dhaka-Mawa-Bhanga Expressway on June 25 to avoid traffic congestion at these points.
The three bridges are Bangladesh-China Friendship Bridge (Buriganga Bridge-1 at Postagola), Dhaleshwari Bridge and Haji Shariatullah Bridge (Arial Kha Bridge in Madaripur).
Road Transport and Highway Division under the Ministry of Road Transports and Bridges took all the decisions as part of the preparations for the opening of the much-awaited bridge.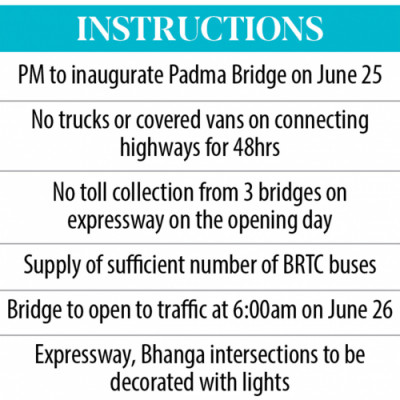 Different agencies under the division have already started their work in this regard.
The government is currently busy preparing for the grand opening of the bridge. The bridge division of the ministry will hold a rally at Mawa.
Meanwhile, the ruling Awami League is planning to arrange a massive rally at the Janjira end of the bridge on June 25.
To make the inauguration a success, Road Transport and Highway Division on June 9 held a meeting with its agencies and companies.
As per the meeting's decision and the division's directive, Bangladesh Road Transport Authority, on June 15, wrote to the additional inspector general of highway police, to restrict trucks and covered vans on the mentioned highways.
"We have written a letter to the highway police. As per the letter, they will identify the highways that connect the Padma Bridge and take necessary measures," Hemayet Uddin, BRTA deputy director (enforcement), told this correspondent yesterday.
Meanwhile, following the decision taken in the June 9 meeting, RTHD sent a proposal to the finance ministry to arrange for free tolls on the inauguration day.
"We have received the proposal and prepared the documents accordingly. Hopefully, a gazette would be issued within a day or two," an official of the division said yesterday.
Meanwhile, the meeting also asked Bangladesh Road Transport Corporation (BRTC) to arrange a sufficient number of buses for the day.
Contacted, BRTC Chairperson Tazul Islam said, "We will supply as many buses as required for the programme."
The June 9-meeting also directed the Roads and Highways Department (RHD) to install a divider on Buriganga Bridge and prepare the Fatulla-Munshiganj-Louhajong road properly.
RHD was also asked to decorate Dhaka-Mawa-Bhanga Expressway -- officially known as Jatir Pita Bangabandhu Sheikh Mujibur Rahman Highway -- and some other structures, including the Bhanga intersection, with lights, billboards and digital banners.
All agencies and companies under the division were also asked to decorate their important structures to mark the day.
RHD Chief Engineer AKM Manir Hossain Pathan said they have given the necessary instruction to complete all the preparation before the inaugural programme.