Gangamati Reserve Forest in Kuakata: Akashmani trees under attack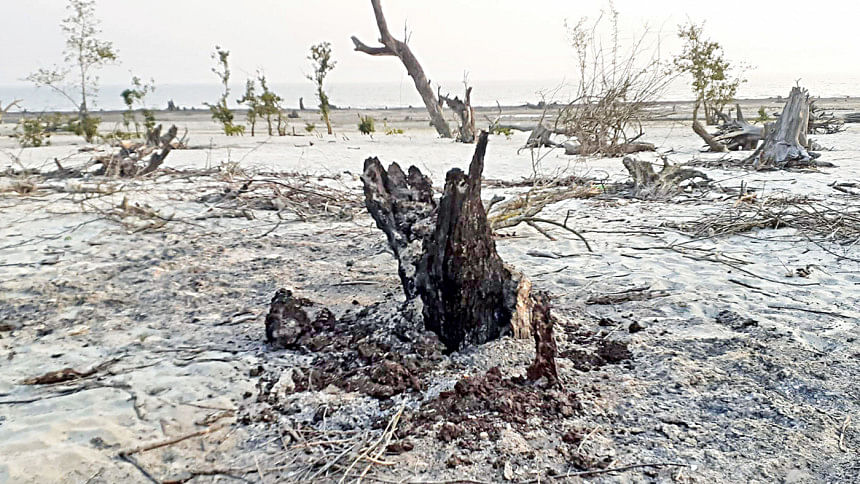 In the reserve forest in Kuakata's Gangamati area, around 10,000 Akashmani trees were planted in the 2008-09 fiscal year. It has since come to be known as the natural wall of the sea.
But despite its importance to the area, the trees are now in danger of being wiped out, as a local group is out to cut and sell them, as well as destroy them with fire. Meanwhile, some of the trees have also died during the recent tidal wave, when their roots became covered in sand.
Coastal dwellers are apprehensive about this deforestation. They're seeking the authorities' intervention, including legal steps against the syndicate. They demanded that the authorities plant more trees, as they play an effective role in protecting the lives and property of the area's people.
When this correspondent visited the area recently, he saw felled trees scattered across the beach, while seven to eight workers could be seen taking down the trees and carrying them away.
When asked about their activities, the workers refused to provide details, although they later said they were from Gangamati. They claimed they're only cutting those trees that have been uprooted by the tidal water, and cutting them wouldn't cause much harm to the forest.
One of them said, "We're cutting the trees after informing forest department officials. In fact, they've asked us to cut the trees." However, a local named Ferdous Hawlader said the incident is not just a one-day affair, but a longstanding issue. He alleged that the workers do this in co-ordination with the forest department's local staffers.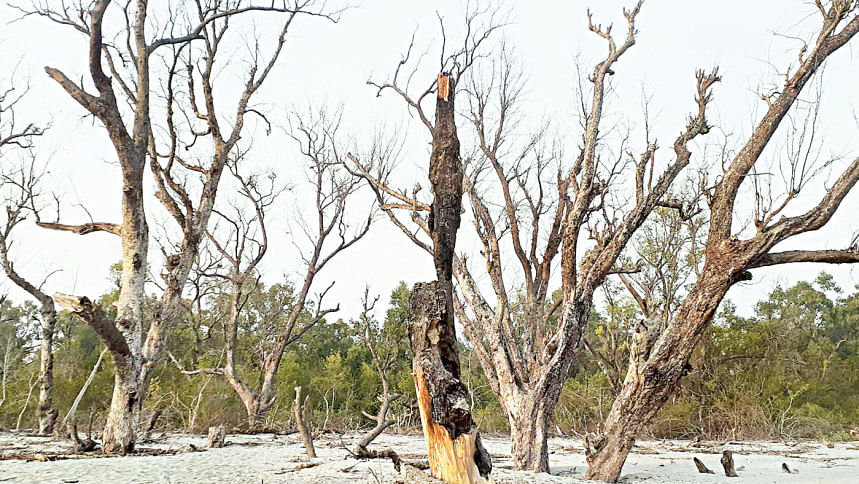 Wishing anonymity, many locals alleged that over a thousand trees have been either felled or burned over the last one year. They said the miscreants set fire to the trees, so that they can tell people the trees have lost their "wood value" and take them away.
Lincon Bayen, Barishal divisional coordinator of Bangladesh  Environmental Lawyers Association (BELA), told The Daily Star, "The  coastal areas are already at risk of natural disasters. When there's a  need to plant more trees to maintain environmental balance, cutting down  trees this way is not desirable at all."
Contacted, Abul Kalam Azad, Mahipur range officer of the forest department, said, "I didn't know that the trees were being cut like this. Those involved will be identified and legal action will be taken against them. About 20 cases over tree-felling have already been filed, whose proceedings are still ongoing."
Meanwhile, Patuakhali Divisional Forest Officer Abdullah Al Mamun said strict action will be taken against those involved. "If anyone from the forest department is involved with this, they will also be punished."
Apart from Akashmani, the garden at Gangamati also has other species of trees, including Hartaki, Bahera, Raintree and Gamari.