Age-old wisdom in modern times
Bagerhat school preserving tradition by imparting lessons on palm leaves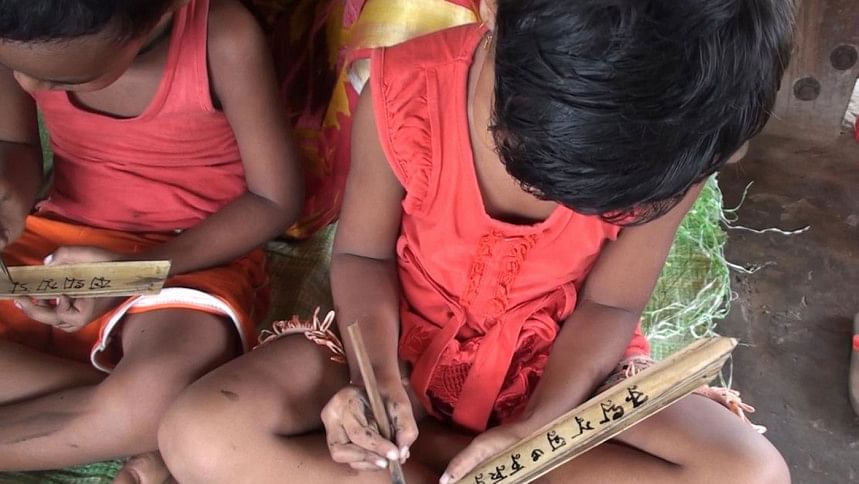 In the past, children used to be introduced to education at informal learning institutions known as "pathshala". They would be taught alphabets and numbers by pandits (local mentors), practicing those on dried palmyra palm leaves (taal-pata) with bamboo pens (qalam) and ink.
It was the traditional education system of this region.
Over the course of time came the use of slates and chalk, and then blackboards at primary schools, replacing the traditional pathshala and the practice of using taal-pata and ink for early schooling of children.
However, one institution in Bagerhat -- Dumuria Dakshinpara Shishu Shiksha Niketan -- is still continuing this tradition to introduce children to education.
In fact, it has been doing this for the last 18 years, functioning exactly how old-schools did in the past.
In the remote Dumuria village under Chitalmari upazila, 75-year-old Pandit Kalipada Bachar has been running the school with the help of villagers, teaching toddlers the basics -- alphabets, numerals, moral lessons -- providing them with palmyra palm leaves, bamboo pens and ink for writing.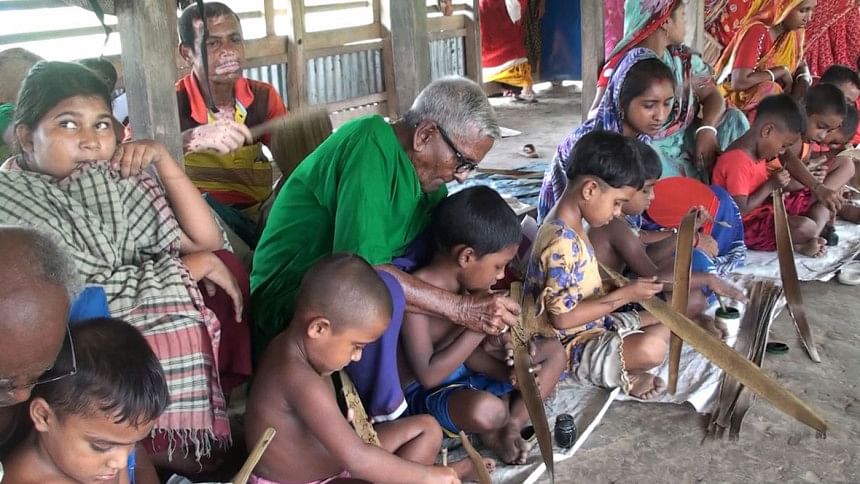 Visiting the school recently, this correspondent found 38 children from five neighbouring villages attending Pandit Kalipada's school.
Shanti Lata Mondal, a parent, said, "Pandit Kalipada Bachar teaches children very well. He trains them to write on palm leaves with bamboo pens, prepares children for primary school and charges only Tk 150 per month for each student."
Speaking to this newspaper, Kalipada Bachar said, "Practicing on palm leaves helps the children write with better handwriting."
However, the school has been continuing amid an array of problems, including lack of fresh water and electricity connection, and waterlogging.
"The school runs from 9:00am till 1:00pm. Since there is no electricity connection, children have to suffer a lot in extreme heat during summer," he said.
"Besides, there is no arrangement for fresh drinking water and toilets. During high tide, river water inundates the school field," said Tumpa Biswas, another parent.
 Sanjit Roy, secretary of the school, said, "This school was established in 2005 with the help of locals. Currently, there are 38 students learning here. The school is running amid numerous problems. We urgently need to construct an access road to the school."
 Mohammad Khalid Hossain, deputy commissioner of Bagerhat, said, "The school has retained our century-old traditional education system, which is a praiseworthy effort. I will take steps to help them if they come to me with an application regarding the problems they face."