Dhaka New Market 'battleground': At least 50, including journos, police injured
At least 50 people, including seven journalists, were injured as students of Dhaka College and traders locked in clashes again in Dhaka's New Market area this morning.
At least 40 injured persons including seven journalists took treatment at Dhaka Medical College Hospital, said Inspector Bachchu Mia, in-charge of DMCH Police Outpost.
Besides, at least 20 police personnel were injured during the clash, said Harun-or-Rashid, additional deputy commissioner of DMP's Ramna Division Police.
Vehicular movement is suspended from Azimpur to Science Laboratory intersection due to the clashes.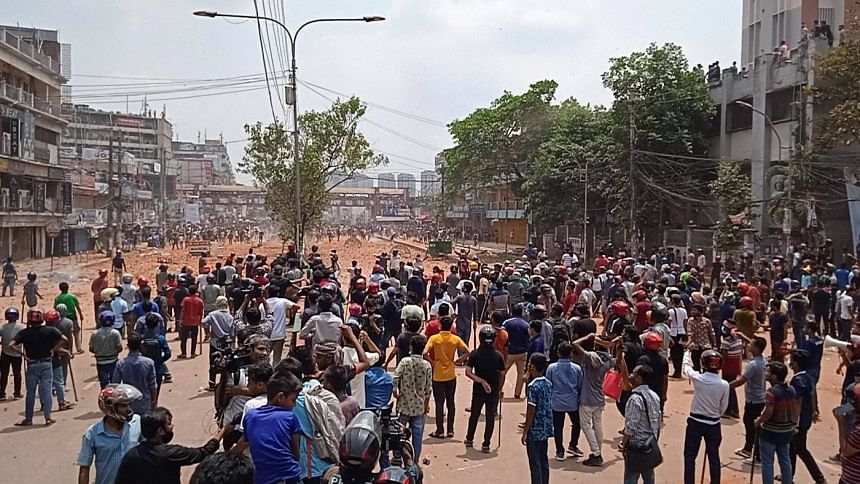 All the shops in the area remained closed since morning.
Deepto TV's senior reporter Asif Zaman, cameraperson Imran Lipu, and reporters and cameraperson of Somoy TV and SA TV were injured in the clash.
They came under attack while covering the clash. Some of them were beaten up and some were hit by brick chips thrown by the students and traders.
Inspector (Patrol) of New Market Police Station told The Daily Star that clashes broke out between the students and traders last night. But the situation become normal late at night.
Around 10am today. the clashes started again, the OC said.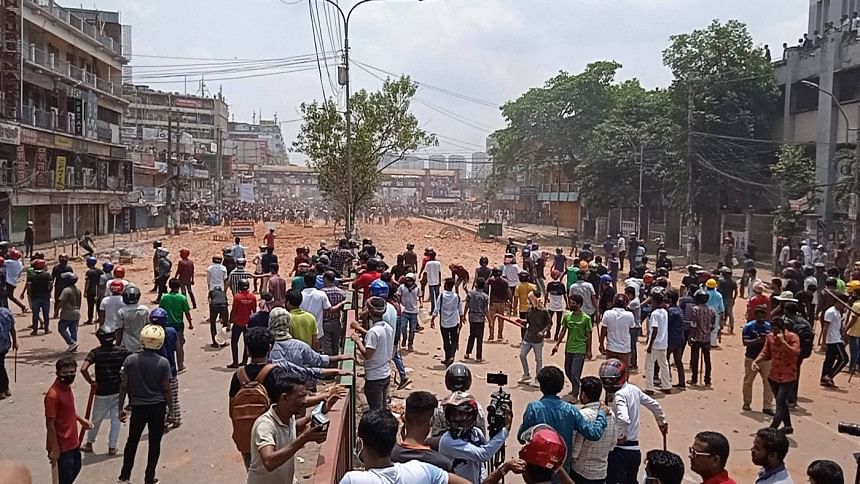 Around 1:30pm, police fired teargas shells to disperse the students and traders.
Ismail Samrat, representative of the students of Dhaka University-affiliated seven colleges, told The Daily Star, "Around 50 of our students were injured in yesterday's clashes. Four to five are in critical condition."
Humayun, a student of Dhaka College, alleged that the situation worsened after "police attacked them on behalf of the traders".
Talking to media, Kabir Hossain, a reporter of a private television channel, alleged that he came under attack from traders when he was covering the event.
His camera was also damaged during the attack, he said.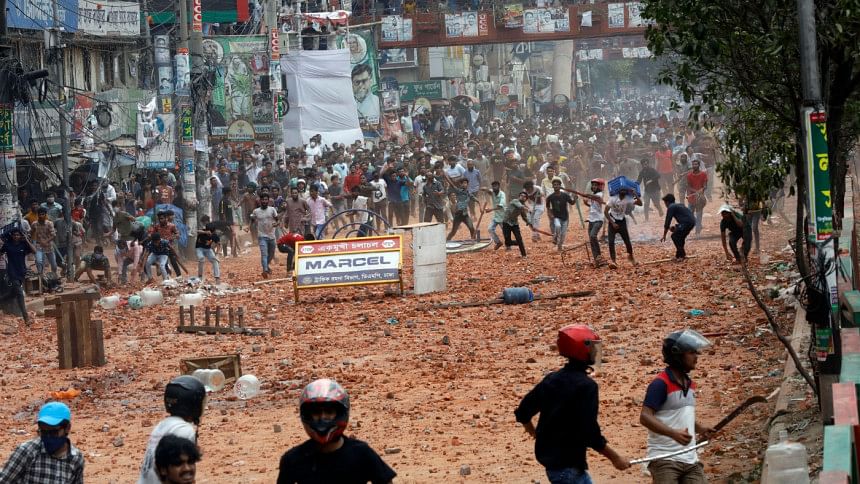 Ataur Rahman, a businessman, said, "We have not been able to do business for the last two years due to coronavirus related restrictions. After the situation became normal, we have invested a lot of money. Our business is doing well ahead of Eid… It will be difficult for us to cover the losses due to this clash. We call upon the government to take steps to resolve this issue soon."
Meanwhile, a group of students allegedly set a shop on fire at Nurjahan Market, opposite to Dhaka College, around 1:30pm, witnesses said.
Five shops were burnt completely while many others partially in the fire.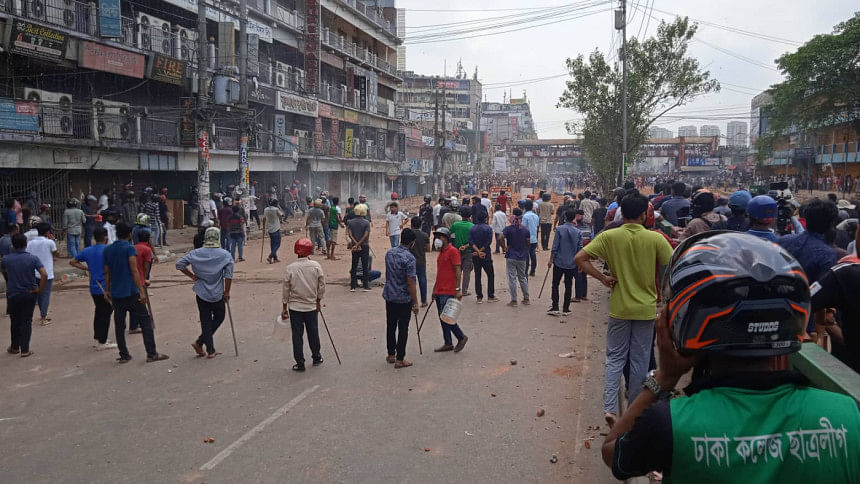 On information, two firefighting units went there and are trying to douse it, said Lima Khanam, duty officer of Fire Service and Civil Defence.
An ambulance was also vandalised in the New Market area during the clash.