Ac System Failure: Cardiac surgeries halted for days at NICVD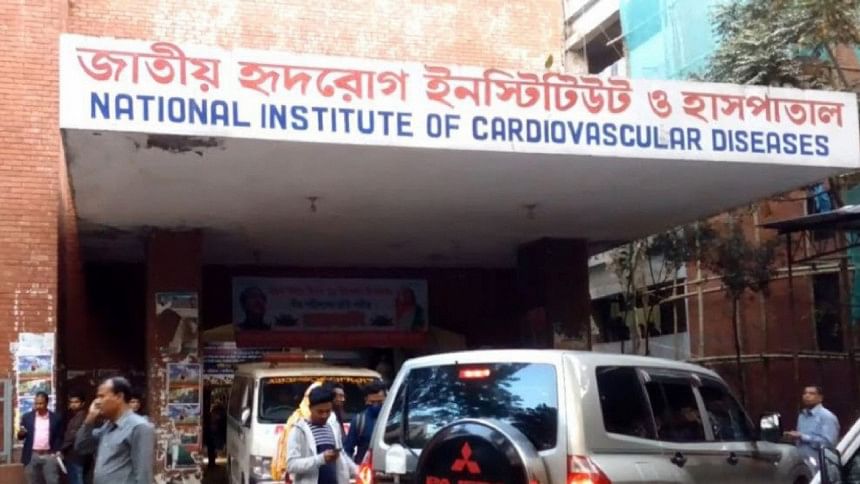 Cardiac surgeries have been halted for at least 10 days at the National Institute of Cardiovascular Diseases (NICVD) for failure of the air-conditioning system at the intensive care units.
As a result, many patients, mostly from the low-income groups and in dire need of intervention, have been suffering.
A lack of coordination between the hospital authorities and the Public Works Department (PWD), which is responsible for the maintenance of the AC system, is prolonging the situation, according to multiple high officials.
They said that on average, around five cardiac surgeries are done every day at NICVD, the country's premier hospital for cardiovascular diseases.
The hospital accommodates 1, 200 indoor patients at a time against its 800-bed capacity and has two ICUs with a total of 48 beds.
Patients often require intensive care for 3-7 days following a surgery.
Speaking to The Daily Star yesterday, Prof Dr Monzurul Alam, head of the hospital's cardiac surgery department, said, "The AC system failure has been causing a temperature imbalance at the ICU, which is resulting in hospital acquired infections among patients. So, we had to stop surgeries from April 18."
ICU workers said they had noticed issues with the AC system at the beginning of the month and informed the hospital director, who then asked the PWD to take necessary steps.
"In response, the PWD asked us to evacuate the ICUs. We completed evacuation targeting the Eid holidays. However, even after the holidays ended, PWD could not yet start working to fix the AC system," Alam said.
"We usually use the 3-4 days of Eid holidays for disinfection purposes at the ICUs. This involves both evacuation and halting of surgeries. We wanted to use the same amount of time for the repair work, but it is now being prolonged."
Dr Mir Jamal Uddin, director of NICVD, highlighted three reasons behind the suspension of surgeries -- AC system failure; routine disinfection work during Eid holidays; and the time sought by the PWD.
Somiron Mistry, executive engineer of PWD, yesterday told The Daily Star, "Our team will start repairing the system on Saturday and it will be done within 3-4 days."
Asked about the delay, he said, "The procurement of the necessary equipment was not possible amid Eid holidays."
A visit to the surgery unit of the NICVD showed most beds were empty. Meanwhile, several patients said they had been waiting for their surgeries.
"I need a valve implant and I don't know when it will be done," Asadul Islam, a 35-year-old cardiac patient said.