60pc returnee female workers unemployed
Says BILS report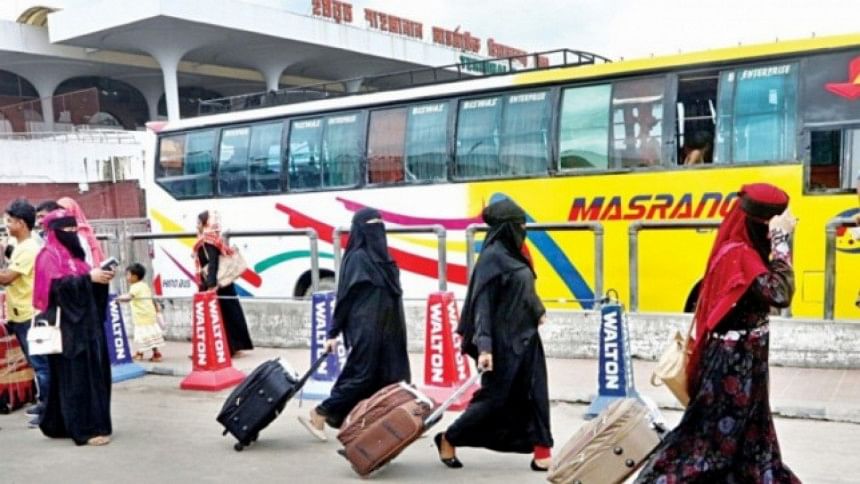 Sixty percent of 323 female returnee migrant workers in 12 upazilas under three districts are currently unemployed, according to a new report of Bangladesh Institute of Labour Studies (BILS).
The report states that one in three female returnees have lower socio-economic status than before.
Highest 22.6 percent of the female migrants returned home within 12 months of their migration and lowest 3.4 percent stayed abroad for 10 years or more, the report adds.
BILS disclosed findings of the report "Social and Economic Reintegration of the Returnee Female Migrant Workers: Success and Sorrows" at a programme at its auditorium yesterday.
In a broad sense, the reasons behind female migrant workers' return home include low wage and forced labour in the host countries, said the report's lead researcher Manirul Islam.
He said official data on returnee female migrant workers is not available, but in their estimate, on an average, 200 to 300 such workers return home each month.
Manirul, deputy director (research) of BILS, said at least a dozen ministries are responsible for returnee reintegration but a coordination gap in this regard among them was evident.
The report says 55 percent returns of the female migrants was either unexpected or forced.
The research was conducted in four upazilas each of Jashore, Faridpur and Chattogram districts between July and December 2020.
Most of the female migrants returned from the Middle East -- Saudi Arabia, Lebanon, the United Arb Emirates, Oman and Jordan. Of them, 5.6 percent are aged between 18-25 years and 81.3 percent between 26-49 years.
Also, 24.5 percent female returnees are either divorced, widowed or were abandoned by their husbands, and 3.1 percent are unmarried.
Some 54.5 percent female returnees have no institutional education, and another 29.8 percent studied up to grade-V.
The report says 61 percent female returnees have debt burden of Tk 76,736 on an average. Thirty-eight percent respondents alleged they were abused physically in the destination countries, 52 percent were victims of forced labour, and 61 percent often suffered from lack of food and water while abroad, it says.
Besides, 10 percent of the female returnees were imprisoned abroad, it adds.
Fifty-two percent female returnees thought "a change of social attitude"
towards them have happened after their return while 45 percent mentioned they were overlooked, avoided or not invited to social events.
Only 15 percent returnees have some sort of investment and 15 percent female returnees are satisfied with their present occupation.
Of the respondents, 11.8 percent are now self-employed, nine percent are domestic workers, 8.7 percent day labourers, 5.6 percent run small businesses, and 3.7 percent have jobs.
Ninety percent respondents demanded that social security protection be provided for them.
Addressing the programme, BILS Executive Council Member Shakil Akhter Chowdhury said about 10 lakh Bangladeshi female migrant workers have gone abroad.
"The picture of their sufferings especially in the Middle East countries is worrisome," he said, adding upon return home they face even more challenges in socio-economic reintegration.
Shakil said, during their migration abroad, female migrant workers are not being provided with proper information and training.
As a result, they often experience a gap between their expectations and what they are being offered in the host countries, he added.