50 years of Victory: Mind fearless, head held high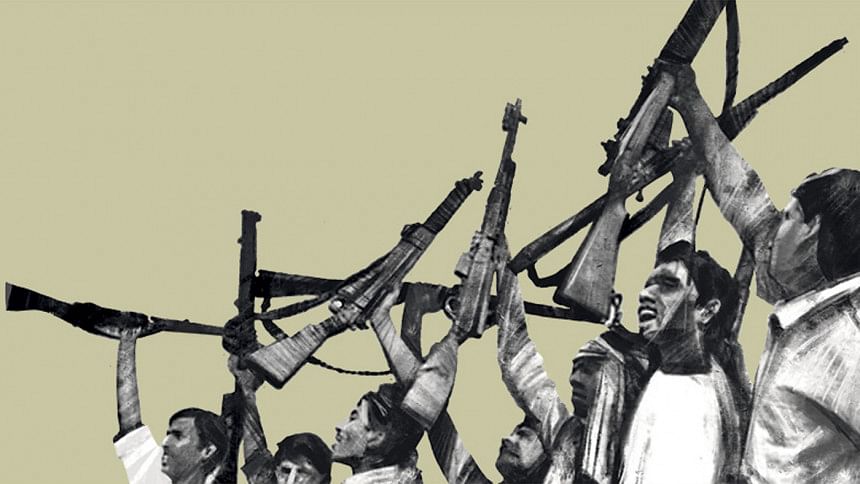 Fifty years ago when Bangladesh emerged as an independent nation defeating a brutal military campaign by Pakistan, it was a country in ruins.
Amid periodical natural disasters and a plethora of post-war strife and turbulence -- poverty, food shortage, hunger, massive destruction of infrastructure, and crumbling economy -- the country's start did not paint a picture that would radiate hope.
Bangladesh was dismissed as a "basket case" with no mineral resources and high population growth. After the independence, much of the developed world believed that the country would have to be fed by the international community.
But 50 years after its violent birth, Bangladesh has become a development paragon, representing a success story in most aspects.
From incredible economic growth, vast strides in education and public health to major contributions in culture and sports, Bangladesh has transformed itself into not just a leader amongst South Asia countries, but a truly global player.
Today, the nation is celebrating 50 years of its victory, which was made possible by its charismatic leader Bangabandhu Sheikh Mujibur Rahman, who united the people in the epic struggle for freedom.
It was Bangabandhu who instilled the lust for freedom amongst the people of this land and the need to fight for it. About three million Bangalees were killed while 10 million refugees escaped systematic mass killings, rapes, lootings and arsons, and took shelter in India. India's supporting role was vital in winning independence.
When Bangabandhu took over the reins of the country, he was able to restore some stability. He ensured an exemplary constitution within nine months.
But before he could take the country towards realising the dreams of a "Sonar Bangla", Bangabandhu, along with most of his family members, was brutally assassinated in 1975.
The country then experienced turmoil in the form of assassinations, coups, counter-coups and military rule. After a long period of instability and misrule, democracy was restored in the country through parliamentary elections in 1991.
Thirty years down the line, the country made spectacular economic and social progress despite unfavourable circumstances and constraints on resources.
A young workforce, higher participation by women in the labour force coupled with remittances by migrant workers, and spread of microfinance have played a significant role in the country's development.
Today the nation has much to celebrate.
With the average economic growth increasing steadily every decade since 1980, it has consistently outperformed its South Asian neighbours and is now on her way to becoming a middle-income country with millions having risen out of poverty.
The poverty rate had fallen to less than 20 percent before the pandemic from as high as 82 percent in the 1970s.
Now, Bangladesh's GDP per capita stands at $2,227.
The country struggled to feed its 7.5 crore people five decades ago. Now, it is self-sufficient in food production even though the population has more than doubled.
Aid-dependence significantly declined from 14 percent of the GDP in the 70s to less than 1.5 percent now.
Life expectancy is 72 years, much higher than neighbouring Pakistan and India.
With policy support of the government, Bangladesh has become a key supplier of readymade garments worldwide. This industry alone brings in about $34 billion a year and employs millions, the lion share of which are women.
Another driver of the economy was manpower export. Around 10 million Bangladeshis are abroad seeking their fortune in countries in need of workers.
A considerable change has also come in infrastructure.
Bangladesh has made remarkable progress in terms of enhancing access and gender equality in primary and secondary education.
The country has met all three conditions for graduating from the grouping of the least-developed countries twice. The United Nations Committee for Development Policy has already recommended the country's graduation in 2026.
As Bangladesh celebrates the Golden Jubilee of Independence this year, it aims to achieve the status of a developed nation, under the leadership of Bangabandhu's daughter Prime Minister Sheikh Hasina, by 2041.
This 50th year of victory has come with an added zeal as the nation is also celebrating the birth centenary of its founding father.