3,710 attacks on Hindu community in last 9yrs
Reports Ain o Salish Kendra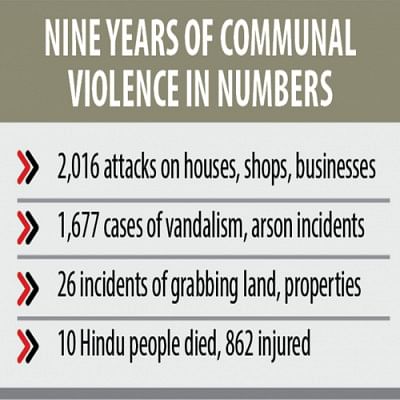 As many as 3,710 attacks on the Hindu community took place in the last nine years, between January 2013 and September 2021, according to a compilation of annual reports by human-rights organisation Ain o Salish Kendra (ASK).
The attacks included vandalism of and setting fire to Hindu families' homes, shops and businesses. Vandalism of and arson attacks on Hindu temples, and incidents of grabbing land and properties of Hindu people were also reported during the period.
ASK prepared its compilation based on news reports published in nine print and online newspapers and its own research. The recent incidents of attack on the Hindu community in Cumilla, Feni, Noakhali, Chandpur, Rangpur and other districts were not included in the report.
According to the report, at least 2,016 houses, shops and businesses came under attack in this period.
At least 1,677 cases of vandalism and arson attacks on Hindu temples, idols and places of worship were also reported.
Besides, 26 incidents of grabbing land and properties took place.
The Hindu community faced the worst situation in 2014, when they were targeted in the post-election violence after January 5, according to the ASK report.
As many as 761 Hindu homes, 193 businesses, and 247 temples and places of worship were attacked that year, and one person died.
The lowest number of attacks were recorded last year; 11 households and three businesses came under attack amid the pandemic. But temples still saw violence, with 66 facing communal attacks.
The report mentioned that at least 10 people from the Hindu community died in these incidents in the last nine years, and 862 were injured.
Seven Hindu people were killed in 2016. Two Hindu women were raped in 2014, and another four were sexually assaulted.
Among other religious minorities, 17 houses and four businesses belonging to people of the Ahmadiyya sect were attacked in 2019 and 2020, and at least 50 people were injured.
Four attacks on the Buddhist community took place in the last eight years and nine months.
Hindus across the country were still reeling from the shock of communal attacks during the Durga Puja, when zealots ran amok, vandalising Hindu idols, temples and shops in several districts, after word spread that "the Holy Quran was demeaned" in Cumilla.
Talking to The Daily Star on Saturday, Rana Dasgupta, general secretary of Bangladesh Hindu Buddhist Christian Oikya Parishad, said the attacks on religious minorities, and their temples, homes and businesses, are part of a blueprint to force them to leave the country.
"It is unfortunate that the majority of grassroots leaders of the ruling Awami League are also seen joining them in the attacks," he alleged.
Rana also said, "Awami League chief and Prime Minister Sheikh Hasina is sincere to maintain religious harmony in the country. But for mysterious reasons, it does not reach the grassroots activists of the party."