1st phase of Biswa Ijtema begins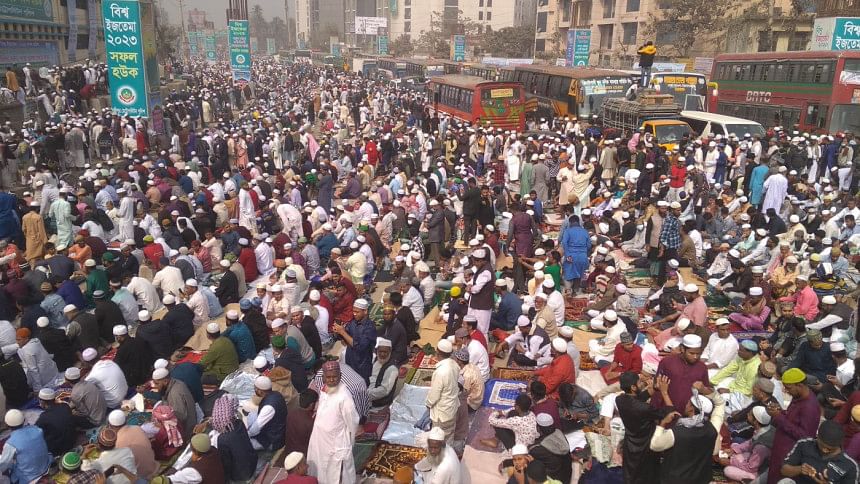 The first phase of the three-day Biswa Ijtema, billed as the second largest congregation of Muslims after Hajj, began this morning after two years of Covid hiatus on the bank of the River Turag in Tongi.
The 56th edition of the annual Biswa Ijtema (World Congregation) began with the a'mbayan (general sermons) of Pakistani Islamic scholar Maulana Ziaul Haque after Fajr prayers.
Thousands of devotees from home and abroad – including India, Pakistan, Saudi Arabia, the UAE, Syria, Chad, Tajikistan, Turkey, Afghanistan, Palestine, the UK, and the US – thronged the bank of Turag to listen to scholars reciting and explaining verses from the Quran and to renew their commitment to Islamic values.
In the afternoon, the country's largest Juma prayers, led by Maulana Hafez Zobair Ahmad, leader of a faction of Tabligh Jamaat, held at the Ijtema ground.
Gazipur Metropolitan Police Commissioner Mollah Nazrul Islam said additional police personnel have been deployed in and around the Ijtema venue to ensure the security of the devotees. The venue has been brought under closed-circuit television (CCTV) camera surveillance.
Also, the government set up health camps for the devotees to provide them with treatment like the previous years.
Meanwhile, another devotee died today at the Ijtema venue due to old age complications. Two devotees died from cold-related illness yesterday.
The first phase of Ijtema will end on Sunday with Akheri Munajat (final prayers).
Tabligh Jamaat has been organising the congregation at the venue since 1967.
In 2011, it divided Ijtema into two phases to accommodate a large number of attendees.
The second phase of Ijtema will be held from January 20 to 22 this year.