Over 12 crore Bangladeshis can't afford a healthy diet
Says UN report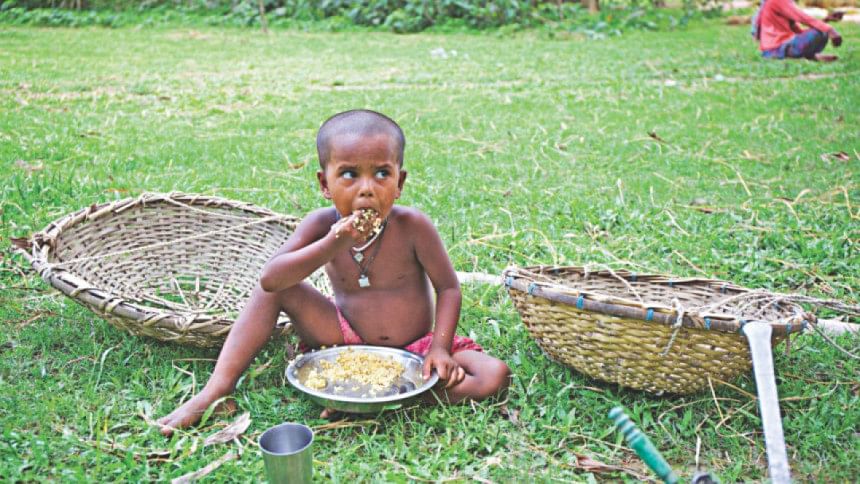 Do you know how much a person living in Bangladesh needs to pay every day to maintain a healthy diet? 
It is roughly Tk 286 ($3.064) in Bangladesh whereas the global average is about Tk 331 ($3.54), according to the UN's flagship report styled "The state of food security and nutrition in the world 2022: Repurposing Food and Agricultural Policies to Make Healthy Diets More Affordable."
The daily cost of maintaining a healthy diet for a person in Bangladesh was $2.882 in 2017, $2.971 in 2018, $3.024 in 2019 and it reached to $3.064 in 2020, said the report.
"In 2020, the sharp increase in global food prices in the second half of the year translated directly into an increased average cost of a healthy diet at the global level, and for all regions and almost all subregions in the world," the report said published yesterday.
According to the WHO, healthy diets include less than 30 percent of total energy intake from fats, less than 10 percent of total energy intake from free sugars, consumption of at least 400 grams of fruits and vegetables per day; and not more than 5 grams per day of salt (to be iodized).
"Between 2019 and 2020, Asia witnessed the highest surge in the cost of a healthy diet (4.0 percent)," said the report, adding that almost 3.1 billion people could not afford a healthy diet in 2020 – an increase of 112 million more people than in 2019.
When it comes to affordability of a healthy diet in Bangladesh, over 12 crore people could not afford healthy diet in 2020 and the number of such population was two crores more than the previous year. But the number was 12.3 crore in 2017.
The report said although there were hopes that the world would emerge from the pandemic in 2021 and food security would begin to improve but world hunger rose further in 2021.
"The increase in global hunger in 2021 reflects exacerbated inequalities across and within countries due to an unequal pattern of economic recovery among countries and unrecovered income losses among those most affected by the Covid-19 pandemic."
Although the prevalence of undernourishment rose to 9.8 percent in 2021 from 9.3 percent in 2020, the rate in Bangladesh was 11.4 percent in 2021, the report said.
It said around 2.3 billion people in the world were moderately or severely food insecure in 2021, and 11.7 percent of the global population faced food insecurity at severe levels.
When it comes to Bangladesh, a total of 10.7 percent people of the total population faced severe food insecurity while 31.7 percent people faced moderate or severe food insecurity.