10-year-old with special needs living in a cage for 6 years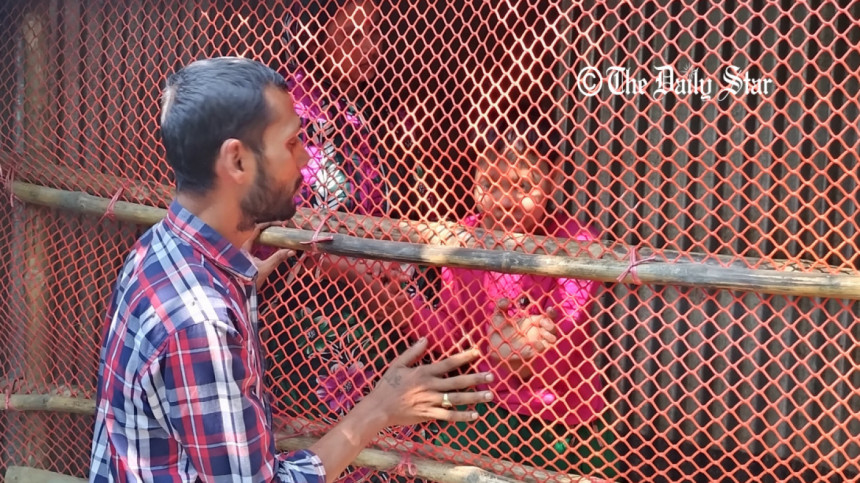 Ten-year-old Shikha Das has been living in a cage at home -- in Purbaful Kaunnail Rishipara under Kalukhali upazila of Rajbari -- for the last six years.
She has been kept in the cage because she "bites and injures" people, according to her parents.
Shikha's father Madan Kumar Das is a craftsman, who used to work with bamboo and cane. However, since demand for items made of bamboo and cane has declined, he left the ancestral profession and started running a barbershop.
He supports a family of six -- widowed mother, wife, daughter Shikha and two sons. Shikha is the second among their three children. Shikha's elder brother Chandan Das is a class seven student at a local school; younger brother Surja Das is two years old.
Madan said that when she was a year old, they realised Shikha had some physical issues. She was taken to India more than once for treatment, but her condition had not improved, he added.
He said, "Doctors said my daughter is a child with special needs. She bites and scratches people. She needs long-term treatment. I don't have the financial means to avail better and long-term treatment for her."
"Initially, we kept her tied to a tree or pillar but she used to tear the rope, bite and scratch people. Considering people's negative reaction, we kept her confined in an enclosure made of nets -- in our veranda -- since she was three years old," Madan said.
Shikha's mother Chandana Rani Das said, "Shikha's father goes to the barbershop in the morning and comes home at night. I remain busy with house work. We have two more children, and I also have to look after my elderly mother-in-law. We lost everything while trying to avail treatment for Shikha previously, and her father's income is not sufficient. As parents, obviously we feel terrible keeping her caged. But what else can we do to keep her safe? We want cooperation from the government and locals."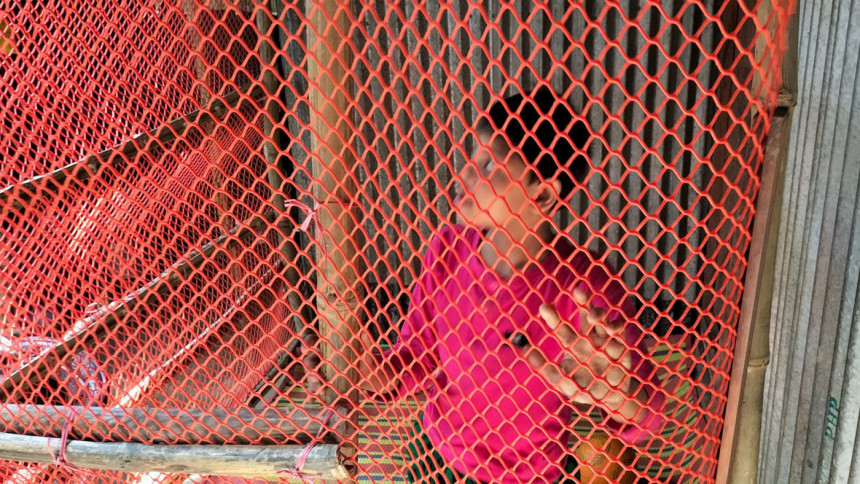 Medical Officer of Rajbari's Kalukhari Upazila Health Complex, Al-Mamun, said, "We did not know about Shikha's condition before. Through the media, we came to know of the matter. I went to Madan's house and saw Shikha. I saw medical papers and talked to her parents. The girl is suffering from cerebral palsy. She has some autism symptoms. She needs long-term treatment."
Kalukhali Upazila Social Welfare Officer Md Jillur Rahman said, "The Department of Social Services issued a disability allowance card for the girl. She is being provided Tk 2,250 every three months. Besides, the representatives of the local union council have been asked to provide other government assistance to Shikha's family."