Human trafficking: 4 Rohingyas die as boat sinks off Teknaf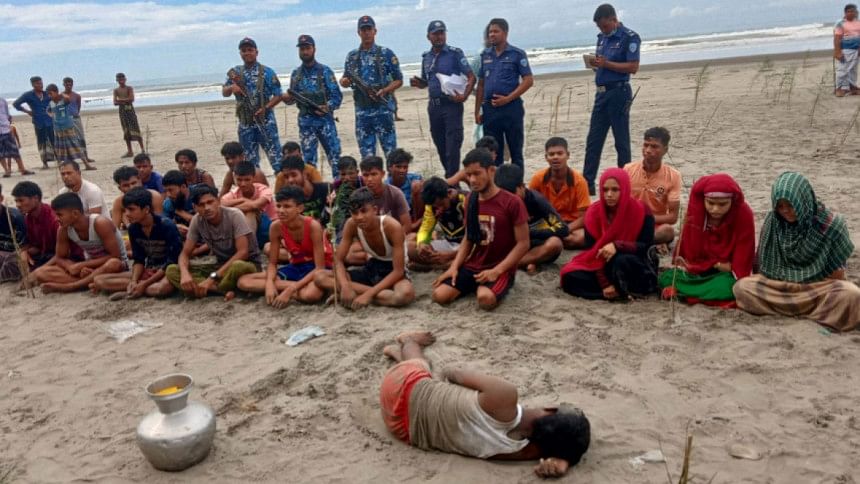 At least four people including a child died as a Malaysia-bound trawler carrying Rohingya refugees sunk off the coast of Teknaf, Cox's Bazar yesterday morning.
According to some survivors, the refugees were being trafficked to Malaysia by a local syndicate.
The bodies of three women and a child aged four or five, all of whom were Rohingyas, were recovered, said Mohammed Delwar, the contingent commander of Bangladesh Coast Guard's Baharchhara outpost.
Many more are feared to be missing, he added.
At least 45 people were rescued, of whom four were Bangladeshis.
The rescued said there were at least a hundred people on the boat, although the exact figures were not available. They alleged that the four rescued Bangladeshis were all members of a human trafficking syndicate.
Delwar said there were eight Rohingya women among those rescued.
"However, it could not be determined how many Rohingyas were on the boat and how many are missing."
He said those who helped rescue the refugees saw many people floating at sea, and it was not known if all of them made it to shore.
"We are fearing that the death toll will rise."
The Coast Guard learnt about the incident when locals of Baharchhara union's Harmunia area noticed people swimming up to the coast.
Talking to the rescued, the Coast Guard learnt that the fishing trawler, which was carrying them to Malaysia, sank in the middle of the sea.
They said nearby trawlers threw plastic buoys and barrels towards them, which they used to stay afloat.
They added that they saw many more still out at sea till noon, even after some were rescued.
The rescued Rohingyas will be sent back to their camps and handed over to their camp-in-charge, said Mahfuzul Islam, superintendent of police in Cox's Bazar. The Bangladeshis rescued were taken into police custody for interrogation.
One of the survivors, Shah Alam, 48, said he was a resident of Ukhiya's Balukhali Rohingya camp. "Some of the majhis [fishermen] along with Bangladeshi agents recruit young people from the camps. We pay them 20,000 Malaysian ringgit [around Tk 4.34 lakh) for the passage. We were taken from the camps four days ago and kept in a local agent's home."
Around 85 of them were taken to the coast late Monday. From there, they were made to board three small boats to reach a trawler, they said.
Shortly after setting off on the trawler, its hull cracked and it began to sink.
The refugees on board asked the traffickers to go to shore, but the boat could not turn and the traffickers told them to jump overboard and swim, informed the rescued refugees.
Another survivor, Mohammed Arman, 22, a resident of Balukhali camp, said he was taken out of the camp 20 days ago, and was kept in three different spots, including deep in the hills for a few days.
He was taken aboard a large fishing trawler on Monday. The hull cracked when they were breaking ice in the storage area below deck with a hammer.
Amjad Hossain Khokhon, Baharachhara union parishad chairman, said, "This union is often used as a transit point by trafficking syndicates, who are also from this area. They join forces with the fishermen in the camps to send people to Malaysia."
Nur Mohammed, officer-in-charge of Baharchhara investigation outpost, said they were waiting for relatives of the dead to come and identify the bodies.