7 tips to protect your child from pneumonia this winter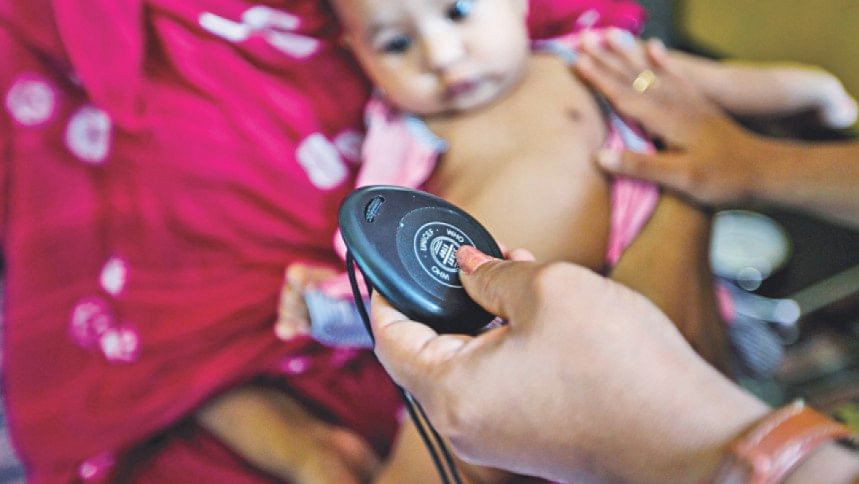 Pneumonia is an acute respiratory infection of the lungs. It is the biggest infectious killer of children worldwide.
It is the main cause of death of children aged under five in Bangladesh and the world. According to the icddr,b, around 12,000 children under five die of pneumonia every year in Bangladesh. Worldwide, the disease claims lives of more than 700,000 children under the age of five, according to Unicef.
Childhood pneumonia cases increase during the winter season in Bangladesh. The best way to keep your children safe from this life-threatening disease is to prevent it from happening. Here are some measures you should take to keep your child from catching the disease.
1. Pneumonia caused by bacteria can be preventable with vaccines. Make sure to get your child jabbed with the Pneumococcal (PCV) vaccine on time.
2. Adequate nutrition must be ensured in every child to protect them from Pneumonia. Nutritious meals help children build stronger immune system which can fight off viruses and bacteria.
3. Try to not expose your child to risk factors like air pollution. Such factors make lungs more vulnerable to infection.
4. Keep away from children and adults who are already sick with a cold. Pneumonia is contagious and can be spread through airborne particles (a cough or sneeze). It can also be spread through other fluids or from contaminated surfaces. If you child has runny nose, cough, or is sneezing, it is best to keep them away from healthy children.
5. Good hygiene practices have important role to play in keeping children safe from pneumonia. Habits like touching nose and mouth frequently can be hazardous. Viruses or bacteria can be prevented from entering your child's nose or mouth through frequent handwashing with warm water and soap. Hand sanitizer can be used when washing is difficult.
6. Teach your child to not share utensils, cups or straws with others as virus can spread through fluids or from contaminated surfaces. Facial tissue and handkerchiefs also must not be shared.
7. Keep your child warm. Make sure they wear enough layers. Outdoor activity is good for the growth of children, but try to keep them indoors when it is too cold or there is a cold wave outside.
Despite these preventive measures, if your child catches a cold, it is better to keep in touch with a doctor, specially, during this season. Doctor's can monitor the child's health and recommend hospitalisation if needed. Late hospitalisation in childhood pneumonia is one of the main causes of death due to the disease in Bangladesh, according to Dr Jahangir Alam, director of Bangladesh Shishu Hospital and Institute.