The unvaccinated can't be outside
Decides govt about those aged above 18, also eases lockdown from August 11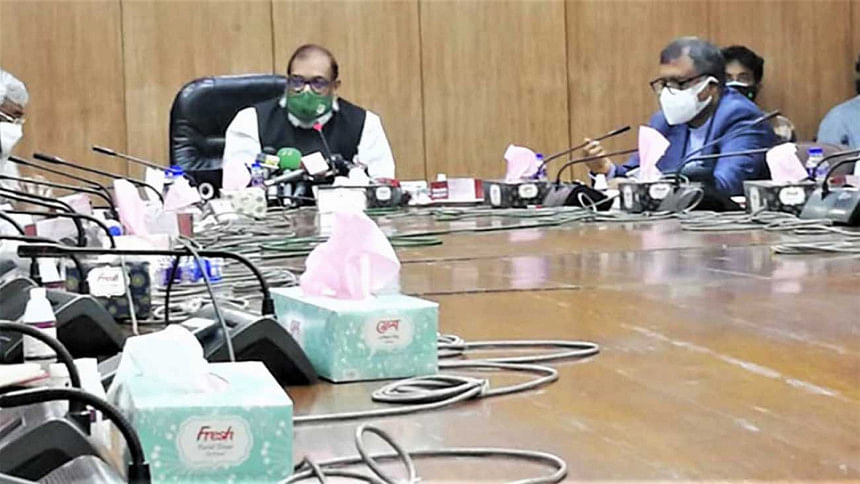 "To enforce it properly, there is a need to empower police so that they can impose penalty to some extent on people who do not wear masks … they can impose fines. For that, an ordinance is necessary. There was discussion about it. Maybe we can go for it."
The government will not allow any unvaccinated people aged 18 or above on the streets from August 11, the day it will relax the ongoing "lockdown".
According to decisions taken at an inter-ministerial meeting at the Secretariat yesterday, stores, businesses and offices will reopen and public transport will resume on a limited scale from that day.
"Anyone above 18 years will not be allowed on streets and on any mode of transport unless they are vaccinated," Liberation War Affairs Minister AKM Mozammel Haque, who presided over the meeting, told reporters.
However, it could not be known what punishment would be meted out to the violators.
Criticism poured out on social media soon after the government announced the decisions. People found the move to punish or bar unvaccinated people to join work unrealistic and unjust as the health ministry is currently vaccinating only those aged 25 and above.
On top of that, they pointed out that the government has administered a single dose of vaccines to less than six percent of the country's 16.3 crore population, while less than three percent got both doses.
The government has also decided to give police the power to fine anyone on the streets found without masks. Currently, executive magistrates are performing that function.
After the meeting, Health Minister Zahid Maleque said alongside vaccines, it is important to wear masks and maintain social distancing.
"To enforce it properly, there is a need to empower police so that they can impose penalties to some extent on people who do not wear masks… that is, they can impose fines. For that, an ordinance is necessary. There was a discussion about it. Maybe we can go for it," he said.
"From August 7, we will begin vaccine campaign at the union and ward level for seven days. We will administer one crore doses in seven days. We now have 1.25 crore vaccine doses in hand. We will get one crore more shots by the end of this month."
He also said elderly people will be given priority as their mortality rate from Covid-19 is higher.
The Election Commission's 2021 data shows there are about 11.17 crore people in the country who are voters -- in other words, they are 18 or over.
On the other hand, the Labour Force Survey 2016-17 of Bangladesh Bureau of Statistics says the total number of employed people in the country is about 6.08 crore, who are aged between 15 and 65. The total employed population aged 15-19 is only 39 lakh.
Till yesterday, some 97 lakh people took the first dose of Covid vaccine and some 44 lakh took both doses, according to the Directorate General of Health Services (DGHS).
That means even if the government administers another one crore doses by August 13, there will still be a huge number of unvaccinated people who will be unable to go outside after August 10 under the government's new limit.
Meanwhile, 235 people died from Covid and at least 15,776 new infections were reported in the 24 hours preceding 8:00am yesterday, said a DGHS press release.
Yesterday, 12 ministers and state ministers, the prime minister's principal secretary and cabinet secretary, 16 secretaries of different ministries, chiefs of law enforcement and intelligence agencies attended the meeting both virtually and physically.
Liberation War Affairs Minister Mozammel said no one will have to struggle to get the vaccine as there will be at least two vaccination centres in each union, municipality and city corporation ward.
"Vaccines will be administered at nearly 14,000 centres throughout the week [from August 7 to 13]. The elderly will be prioritised. Working people, store workers and bus helpers will be given vaccines as well. No one will be allowed to go to their workplace without taking the vaccine," he said.
Addressing shopkeepers, he said, "We're giving you three days -- [August] 7, 8 and 9 -- to take the vaccine... The meeting made the decision so that stores can reopen on Aug 11."
There will be a database of the vaccinated to monitor who are jabbed, he added.
"We don't know how long the pandemic will continue. We need to produce vaccines ourselves or partner with another country for manufacturing vaccines as soon as possible. Once it is done, we'll be able to inoculate everyone," he said.
Mozammel said the meeting decided to be strict on people who do not wear masks or follow health guidelines even after being requested to do so.
"It also said if people do not comply, the government may issue an ordinance with the provision of punishment to make people follow health guidelines," he added.
Replying to a question, the minister said respective ministries and departments will take measures to ensure movement of transport on a limited scale from August 11.
"If 100 buses used to ply the roads before, 50 buses now will ply the same routes by rotation," he said, adding that they are relaxing restrictions on a temporary basis.
"If the situation worsens, we may take alternative measures," he added.
Health Minister Zahed said they will need assistance from the ministries as the government targets to inoculate one crore people in seven days. "One of the main goals of the meeting was good coordination among the ministries."
The meeting also put emphasis on the production of vaccine locally. The initiative of manufacturing vaccines locally under a joint venture between China's Sinopharm and a local company is at an advanced stage, the health minister said.
"We've already got a no objection certificate from the law ministry in this regard."
Apart from vaccination, wearing masks and maintaining social distancing came up prominently in the meeting, he said.
To curb the spread of the disease, a nationwide "lockdown" was imposed from July 1, but was later eased for eight days for the celebration of Eid-ul-Adha.
A two-week "lockdown" was then imposed from July 23, after the Eid holidays. Although the government had initially decided not to allow factories top open before August 5, it suddenly allowed export-oriented factories to reopen from August 1.