Plan to relocate Karwan Bazar in final stage: DNCC mayor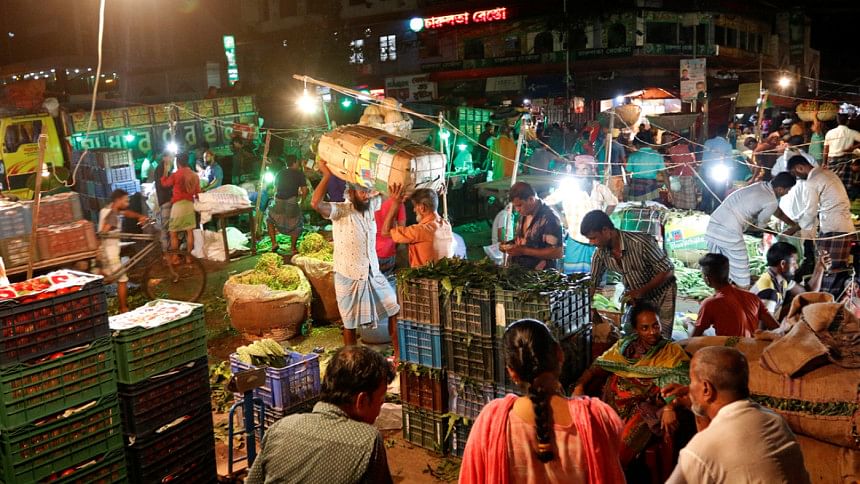 Dhaka North City Corporation (DNCC) Mayor Atiqul Islam today informed that the plan to relocate Karwan Bazar wholesale kitchen market from the heart of the capital to outskirts in Gabtoli and Sayedabad is in the final stage.
"A wholesale market like Karwan Bazar should not be at the heart of a capital city," he remarked whole addressing the inauguration of a public awareness campaign on using masks at Karwan Bazar this morning.
"We want to transform Karwan Bazar into a modern hub of business, and relocate the wholesale market to Gabtoli and Sayedabad. Our plan in this regard is in the final stage. I expect everyone's cooperation to this end," Mayor Atiqul said.
"We have discussed the matter with the market's shopowners' association, and the home minister, who is also the lawmaker from this constituency, to move ahead with our plan to implement relocation of Karwan Bazar."
"Bangladesh is expected to become a developed nation by 2041. By then, Karwan Bazar will also go through transformation," the DNCC mayor also said.
"We have an array of challenges ahead of us. We carry out clean up at night, and then every morning shopkeepers throw garbage on the roads. We have garbage collecting vehicles, but not enough drivers; and those we have, many don't have licence. Such lack of coordination did not happen overnight, rather it's the result of years of poor practices."
"We are working on to overcome the challenges. Our plan to coordinate the vehicle management of DNCC with advanced software is also in the final stage," Atiqul Islam said.
Referring to poor air quality of Dhaka, he said, "All water bodies have been filled up to give way to construction of buildings. At the same time, construction of Metro Rail is going on. We request those who are involved in the various construction projects to spray water on the roads in your areas every morning. If you take a bit of initiative in this regard, air pollution will go down significantly."
"Those working in the Elevated Expressway and Metro Rail projects will have to take responsibility to spray water on the roads and adjacent space around the construction sites every morning. If you don't do this, our magistrates will be there and we will take steps," he added.