DSCC hands over flats to 170 garbage management workers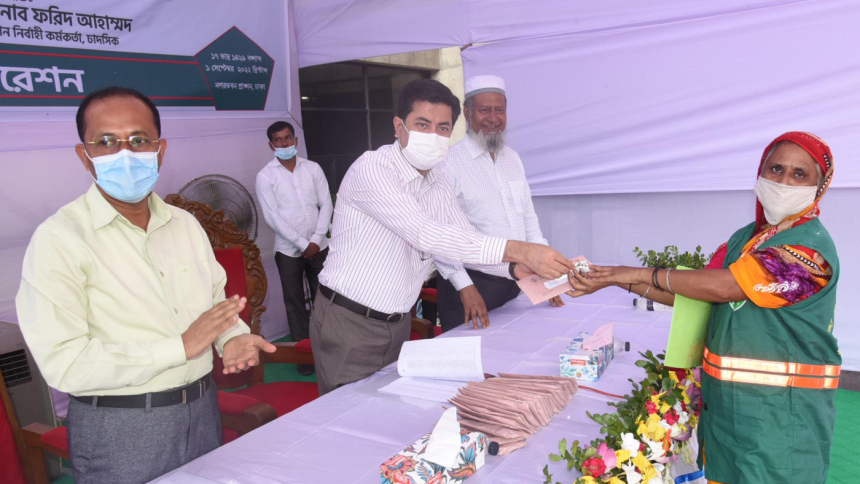 Dhaka South City Corporation (DSCC) today (September 1, 2022) handed over flats to its 170 garbage management workers at 14th outfall in Dhaka.
Each of the 170 garbage management workers received a flat in three newly constructed 10-storey buildings where they can stay with their families, said an official of DSCC.
DSCC Mayor Sheikh Fazle Noor Taposh while handing over the key of the flats said that the housing problem will be solved in phases.
"Our houses are being constructed under some projects. The construction work of some buildings has been completed and the construction of some other buildings is ongoing. After the construction of the ongoing buildings, we will allot them in phases," he said.
He said some of the houses allotted to their Telugu community are also vacant.
"I have directed the Allocation Committee to soon complete the availability list and distribute it among the Telugu community. And today 120 houses are left out of the 3 buildings allotted. Those who still have genuine clean workers, those who have not yet -- can apply. We will allot the remaining 120 houses within this year," he added.
"Today, we have allotted houses among 170 people. Although this house allocation is under the Dhaka South City Corporation, it is actually a gift from Prime Minister Sheikh Hasina. Because the basic policy or law of this house allocation is for regular officials, senior officials and employees," he said.
But the Prime Minister Sheikh Hasina has realised that we have a large number of cleaners -- Harijan, Muslim, Telugu, Manami community -- who have lowincome and are homeless, and she has provided accommodation to them by constructing buildings through the city corporation, the mayor added.