Is the nephew playing for other side?
Allegations arise over Hasanat, Sadiq giving rival candidate Tk 3cr; AL denies it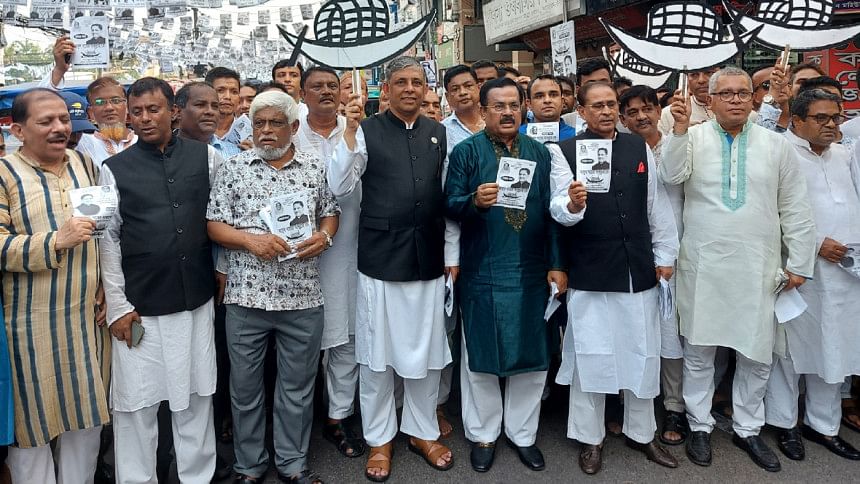 The ongoing conflict between Abul Khair Abdullah, the Awami League mayoral candidate, and his nephew, incumbent mayor Serniabat Sadiq Abdullah, has reached new heights ahead of the upcoming Barishal City Corporation election on June 12.
Adding fuel to the already blazing fire, a recent allegation has emerged, claiming that Sadiq and his father Abul Hasanat provided Tk 3 crore to the campaign of the Islami Andolon Bangladesh (IAB) mayoral nominee.
Anisur Rahman Sharif, a member of ward-14-unit AL and a councillor candidate, made the claim during a press conference on Sunday, turning the spotlight further on the family feud.
"Sadiq and Hasanat Abdullah called the IAB candidate to Dhaka and handed him Tk 3 crore, intending to defeat the AL-nominated candidate Abul Khair Abdullah," he said.
"If Khair is defeated, Sadiq will be able to continue his misdeeds in Barishal again without any hindrance," he added.
Furthermore, Sharif accused Abul Hasnat Abdullah of offering Tk 5 crore to central BNP executive member Ebaidul Haque Chan to run against the ruling party candidate.
Sharif, once known as a loyal supporter of Hasanat and Serniabat Sadiq, has now seemingly switched sides and aligned himself with State Minister for Water Resources Zahid Faruque, who has been endorsing Khair, in line with the party's decision.
Adding another twist to the saga, Sharif alleged that Sadiq aided 10 councillor candidates by providing them with Tk 30 lakh to run against the followers of Zahid in various wards.
However, senior leaders of AL in the city have dismissed these allegations, stating that there is no evidence to support them.
Md Anwar Hossain, vice-president of Barishal City unit AL, raised doubts about Sharif's credibility, saying, "Sharif was a lawyer's clerk. Everyone knows his past... how can he say this? Surely there is someone behind him who has asked him to say so. He must face the music."
Tarun Chanda, a veteran AL leader and vice president of the district AL, expressed concerns that Sharif's remarks could potentially impact the election. He further criticised Sharif's language and behaviour as a party member, deeming them unacceptable and harmful to the party's reputation.
Taking swift action, the city unit AL suspended Sharif from his party post on Sunday for spreading false information.
Meanwhile, the IAB camp wasted no time in denouncing the claim as defamatory, with plans to file a written complaint with the returning officer. Md Shariatullah, a member of IAB's election publicity wing, revealed that preparations were underway to file a legal case against Sharif.
The IAB candidate, Mufti Syed Muhammad Faizul Karim, denied receiving any money and also declared his intention to take legal action against Sharif.
This newspaper could not reach Sadiq or his father Hasanat despite repeated attempts.