N'ganj city polls: Focus on women, new voters
Ivy, Taimur make last-minute push as campaign ends at midnight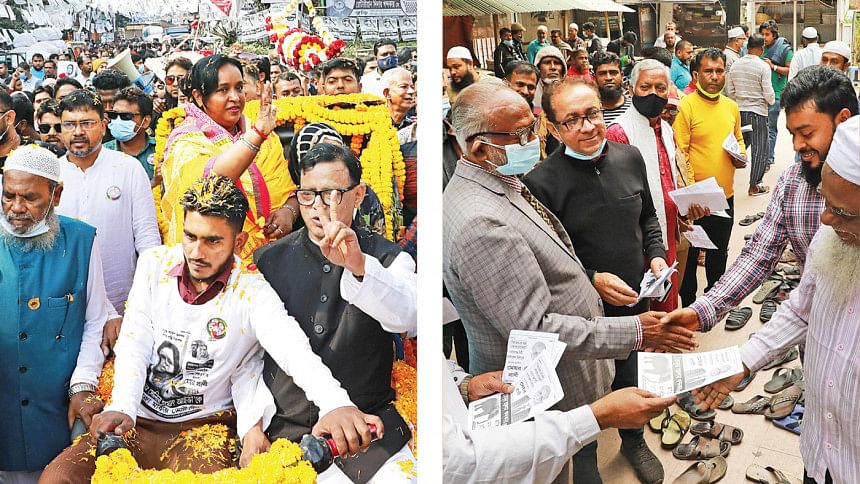 With the Narayanganj city polls campaign ending at midnight tonight, major mayoral candidates Selina Hayat Ivy and Taimur Alam Khandakar are making last-minute efforts to woo women and first-time voters who may make the difference.
Many voters believe that Ivy, as the nominee of ruling party Awami League, may get an advantage over her rivals while independent candidate Taimur, also a BNP leader, may captialise on anti-government sentiments to win more votes.
Voters said the turnout will be a key factor in the election. A total of 5,17,357 voters, including 2,57,519 women, are eligible to exercise their franchise in Sunday's polls. 
The Election Commission will use electronic voting machines (EVMs) in all polling centres in the city.
Speaking to The Daily Star, several voters yesterday said the Osman family, a very influential political family in Narayanganj city, will also play a crucial role in deciding the fate of the two heavyweight mayoral contenders.
Manika Rani Saha, a homemaker, said, "We will vote for a candidate who will work for development of women. We want the city to remain safe like it is now."
Excited about casting ballots, some first-time voters said they will vote for the "fittest candidate". They said they want to see Narayanganj city as a humanitarian city where there will be no crime. They also want a pollution-free Shitalakkhya river.
Nighad Sultana Nishat, a university student and also a first-time voter, said she was yet to decide whom she would vote for. "But I want continuation of the development works in the city. I hope the city will be free from eve-teasing and separate toilets will be set up for women."
Another university student Abdul Alim said he wants a drugs- and corruption-free green city where there will be no traffic jam.
"Teenage gang is a new worry for city residents. There are a number of such gangs in the city. The new mayor must take stern actions against those," he said.
Voters are also worried about using EVM as many are going to use it for the first time. They said the voting may progress slowly due to use of the machine, which might have an impact on the polls results.
Sixty-year-old Tarikat Hossain said he has little idea about EVMs. "I never cast my ballots using an EVM. I may be able to use it, but what about uneducated people? Would they be able to cast their ballots? This will be a big issue."
While campaigning in the city's Paschim Dewbhog area, Ivy yesterday said  she would carry out her duties honestly to fulfil the wishes of the new voters if she won the election.
"I have served the Narayanganj city residents rising above party and personal interests. I speak clearly and I never resort to lies. That's why new voters will vote for me," she said.
Taimur yesterday said he wants to bring a change in the city corporation and relievecity dwellers of the burden of city corporation tax.
"I am an independent candidate and I have been with the people for 50 years. So, if the voting is held in a peaceful manner, people from all walks of life will vote for me," he added.
Although local AL lawmaker (Narayanganj-4) Shamim Osman extended his support to Ivy a few days ago, many believe it is still not clear what his role would be on polling day.
They said if Shamim's supporters vote for Taimur, it would be tough for Ivy to win a third term as Narayanganj City Corporation (NCC) mayor.
Rafiur Rabbi, senior vice president of Nagorik Committee of Narayanganj, said city residents will vote against criminalisation of politics and also in favour of development.
"New and women voters will play a key role in the election. It seems to me that women voters have a soft cornerfor Selina Hayat Ivy," he said.
Nur Uddin, president of Amra Narayanganjbashi, a non-political and social platform, said women voters will play a key role in the election outcome as they usually cast their ballots in high numbers.
"The use of EVM is another key issue. If voters fail to cast their ballots due to technical glitches, it would be disastrous for the major contenders," he said.