Narayanganj city polls: Cops 'coercing' AL leaders into Ivy campaign
Alleges Taimur; police deny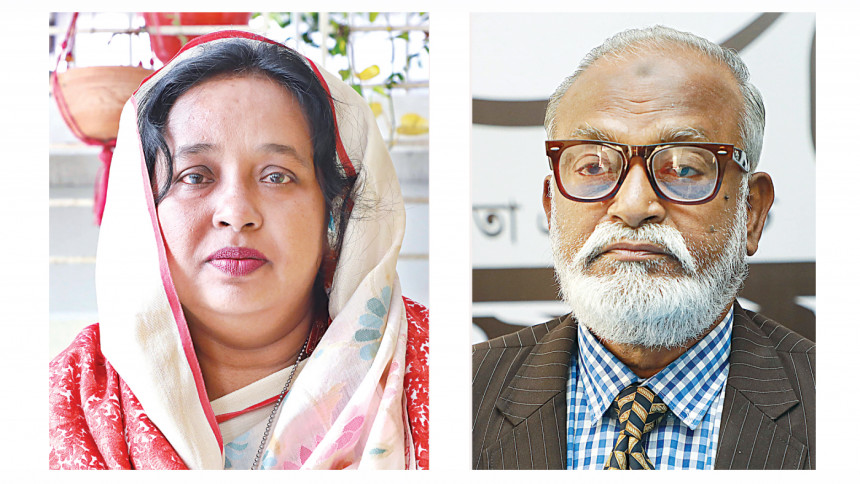 Although the atmosphere surrounding the Narayanganj city polls is still peaceful, locals believe candidates will face a big challenge maintaining it as internal conflicts between parties and leaders have started coming to light.
AL nominated mayor candidate Selina Hayat Ivy's comment on Narayanganj-4 ruling party MP Shamim Osman has again brought to the fore their old rivalry, while independent candidate Taimur Alam Khandakar has alleged that Ivy has been violating electoral conduct by making indecent comments against him.
Meanwhile, a Narayanganj Chhatra League committee was dissolved on Saturday as a section of its leaders are yet to join Ivy's campaign.
Habibur Rahman Ryad, president of the committee, claimed law enforcers went to his and some other BCL leaders' houses on Saturday night.
"The administration told me to work more sincerely in favour of Ivy," he told The Daily Star.
Asked, Jayedul Alam, Narayanganj superintendent of police, said they went to Ryad and other leaders' houses as part of their regular patrol to avert any untoward situation centring the January 16 polls. "But we did not ask any of them to work in favour of any particular candidate."
On the other hand, Taimur said Ivy's situation has become so fragile that the police and administration are forcing ruling party leaders to extend their support to her.
"Police are going to houses of those who haven't yet campaigned for Ivy and threatening them."
He also alleged that police have been harassing opposition men so that they refrain from supporting him.
"It is a big barrier on the path to free and fair polls. Chaos may take place before the election, but I hope the administration will remain neutral."
On Saturday, Ivy alleged that her main contender Taimur is "a candidate of Shamim and Selim Osman", after supporters of the latter took part in Taimur's campaign the day before.
Asked whether she will seek Shamim's support, she said, "He is involved with Awami League politics. If he does not give me his support, that is his choice. I have nothing to say if he does not want to carry out his responsibility [towards the party]."
Mokhles Mridha, a resident of Sonakanda, said both Ivy and Taimur are yet to garner support from other political leaders. "Except for a few AL leaders, others have not yet joined Ivy's campaign."
Humayun Kabir, a bookstore owner in Chashara area, said both candidates are worthy.
"Ivy did a lot of development work in the city corporation area and Taimur is also a good candidate. If the situation remains calm, it would be a good contest."
Yesterday, both Ivy and Taimur did not attend the "Janatar Mukhomukhi" programme, organised by Shushasoner Jonno Nagorik, (Shujon) at the Sheikh Russel Park at Narayanganj's Deobhog.
Three other mayor candidates, however, attended the programme and pledged to free the NCC from corruption and ensure accountability and transparency if elected.