First Phase Up Polls: Three killed as violence rules the day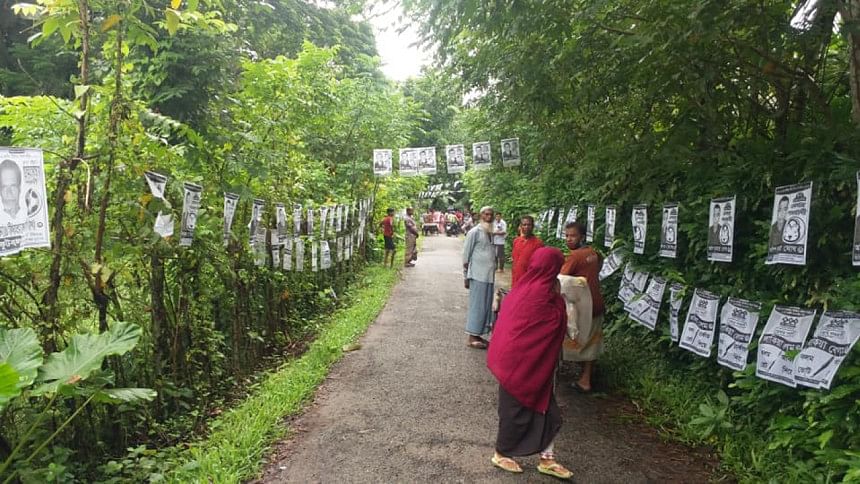 At least three people were killed and dozens others injured in clashes between supporters of ruling Awami League's chairman candidates and party rebels during the final part of the first phase of union parishad polls yesterday.
Postponed due to the Covid-19 pandemic, the election to 160 union parishads and nine municipalities featured some of the prominent features of the 2018 national polls and recent local government elections: boycott by candidates and ballot stuffing at places.
The election lacked festivity and enthusiasm and the absence of candidates from the BNP apparently made it one-sided. Most clashes took place between supporters of chairman candidates from the AL and those of party rebels.
Unofficial results in 134 of the 160 unions were available until 12:30am today. AL candidates secured victory in chairman election in 103 unions. Independents, including AL rebel, won in the other 31 unions, reported our district correspondents citing returning officers.
Two people died in Maheshkhali and Kutubdia upazilas of Cox's Bazar yesterday and one died in Bagerhat's Mongla upazila the previous night, reported our correspondents in the districts.
Clashes also took place in Bagherhat's Morelganj, Sharankhola upazilas and Khulna's Dighalia upazila yesterday.
At least 10 candidates boycotted the elections and voting was postponed in five centres.
Election Commission Secretary Humayun Kabir Khandakar in a press briefing said apart from some "untoward" incidents, yesterday's polls across the country were held in a peaceful manner.
"It is painful that two people died in clashes and that chase and counter chase took place. Other than these, the election was peaceful," he claimed.
Election Commission data shows that in 160 union parishads, 45 chairman candidates had already been elected uncontested. Out of the 45, 38 were in Bagherhat.
Three mayor candidates of nine municipalities, which went to polls yesterday, were also elected unopposed.
Voting in 204 unions were held on June 21 during the first part of the first phase of the UP polls, when 28 chairman candidates were elected unopposed. At least three people were killed and dozens others injured in violence that day.
POLLS VIOLENCE
Abul Kalam, 35, was killed and five others were injured in a gunfight between supporters of two chairman candidates in Kutubjam union of Maheshkhali, said Cox's Bazar Additional Superintendent of Police Rafiqul Islam.
The gun battle was fought by supporters of AL chairman candidate Sheikh Kamal and party rebel Mosharraf Hossain Khokon at Government Kutubjan Primary School around 9:00am, about an hour after the polls opened, police said.
The deceased was a supporter of Mosharraf, who is the incumbent chairman of the union, locals said.
Voting at two centres was suspended following the incident.
In another incident, Abu Halim, 40, was killed and three others were injured in police firing when supporters of AL candidate Abul Kalam tried to "capture" the Pilitkata Government Primary School centre in Sadar Borogup union in Kutubdia upazila, locals said.
Halim was the general secretary of AL Boroghup union unit, confirmed Aurangzed Matubbar, president of Kutubdia upazila AL.
However, Md Omar Faruque, officer-in-charge of Kutubdia Police Station, said the victim died after supporters of the two chairman aspirants engaged in a clash.
Meanwhile, Rejaul Hasan, health officer of Kutubdia upazila, said some 40 people took treatment at hospitals following clashes in different unions of the upazila.
Another gunfight took place between supporters of two member candidates at Ali Asiya High School centre in Whykong union of Teknaf upazila around noon.
Polling at Unchiprang Primary School and Lambasia Emdadia Madrasa centres was suspended after supporters of a member candidate stuffed ballots in the box.
In Chattogram's Sandwip upazila, several crude bombs exploded during a chase and counter chase between supporters of AL chairman candidate Mohammad Naushad and AL rebel Saiful Islam in Amanuallh union.
On information, police rushed to the spot and brought the situation under control, said Officer-in-Charge Basir Uddin of Sandwip Police Station
In Mongla upazila of Bagerhat, Fatema Begum, 70, died in pre-election violence on Sunday night. The violence broke out as supporters of two member candidates of a ward of Chandpai union engaged in a clash, said locals.
Supporters of Matiar Rahman Moral and supporters of rival candidate Shafiqul Islam clashed around 10:00pm, they said.
Mongla Police Station Officer-in-Charge (OC) Mohammad Monirul Islam confirmed the death. "The cause of Fatema's death was yet to be known, police were investigating the matter," he said.
Clashes were also reported in Morelganj and Sharankhola upazilas of Bagerhat.
Two independent candidates Mohammad Abdul Awal of Shubhdia union parishad in the district's Fakirhat upazila and Masud Rana Lalon of Dhopakhali union parishad in Kachua upazila boycotted the election.
In Barakpur union of Khulna's Dighalia upazila, there were clashes between supporters of two chairman candidates. Crude bomb blasts and exchange of fire were reported. The incident took place in front of Barakpur Uttarpara Government Primary School around 11:30am yesterday during the voting. Voting was temporarily stopped after the incident.
All the injured are supporters of independent candidate Sheikh Anshar Uddin.
OC of Dighalia Police Station Ahsan Ullah Chowdhury said the situation had turned "slightly heated", but they brought it under control.
In Noakhali, six election officials -- four at Jahajmara union and two at Char Ishwar union --were detained as they were caught stamping seal on ballot papers.
The detained were assistant presiding officers Mahbubur Rahman and Belayet Hossian at Hatiya Model High School centre in Char Ishwar union, assistant presiding officers Afsar Ahmed, Siddik Ullah, polling officers Munni Begum and Farzana Akter at Hajee Mozammel Haq Government Primary School centre in Jahajmara union.
Hatiya Election Officer Jakir Hossain said the detainees were in police custody and a decision on them would be taken as per the order of the Election Commission.
Two Awami League candidates and three party rebel candidates in five UPs in Hatia upazila boycotted the election just before the voting opened in the morning.
The candidates included Zia Ali Mubarak Kallol, AL-nominated candidate of Hatiyar Burir Char Union ATM Sirajul Islam, AL candidate of Jahajmara Union Nurul Islam, AL rebel in Sonadia Union Mehraj Uddin, reports our Noakhali correspondent.
Meanwhile, Prof Pran Gopal Datta, former vice-chancellor of BSMMU, was announced elected unopposed in Cumilla-7 by-polls by Returning Officer and Regional Election Officer Dulal Talukder yesterday morning.