Fingerprint hassles slow down voting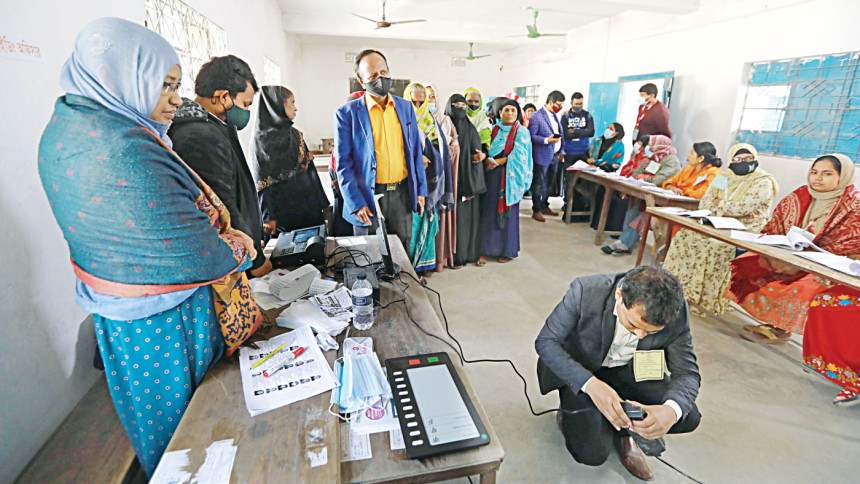 People's lack of experience with Electronic Voting Machines and the mismatching of fingerprints slowed down voting in several polling centres yesterday during the much-talked-about Narayanganj city corporation election.
Many voters had to try several times to cast their votes after washing their hands, wiping their fingers or using petroleum jelly to match their fingerprints, which caused the lines of voters inside centres to get longer, delaying the entire voting process.
In most cases, fingerprints of women and elderly voters could not even be registered in the machines as their skin was either damaged or they did not have prints. 
In some centres, voting was delayed due to glitches in EVMs, which were later fixed by the Election Commission's technical teams.
However, many voters were satisfied after voting with EVMs for the first time, saying they found it easy and quick.
This was the first time the entire voting process for the NCC polls was done through EVMs. Earlier, the machine was used in some areas on a trial basis.
Mangali Rani Sarkar, 90, cast her vote at Paschim Deobhog School centre around 9:30am.
"It's easier to vote with EVMs compared to stuffing ballots. It takes less time." 
Champa Begum, 87, took some help from others to cast her vote at the MW High School centre.
After her fingerprint failed to match three times in a row, polls officials asked the agents there if she should be allowed to cast her vote.
She was finally able to vote as her fingerprint finally matched after agents allowed her to try again.
"It was a little troublesome but she was eager to vote," said her granddaughter Lavli.
Md Mahbubur Rahman, presiding officer of no-77 Bibi Mariam Girls' High School centre, said if a fingerprint is not found for any reason, then the assistant presiding officer will check if pictures, date of birth and other factors match.
"If the other details match, then the assistant presiding officer may allow the person to cast the vote and the officer will complete the process."
At a Sonakanda Beparipara Govt Primary School polling booth, the queue of voters kept getting longer at one point as a senior citizen had trouble voting due to lack of experience with EVMs.
In the Bandar Girls' High School centre, a woman had left as her fingerprint did not match after repeated attempts.
She was later called back in by a polling agent who wiped her finger and helped her complete casting her vote.
Rafiqul Islam, presiding officer at the Government Kadam Rasul College centre, said voters were lined up even after voting time was up at 4:00pm.
"The delay was caused mainly due to mismatching of fingerprints and people's inexperience with EVMs."
Like him, Sohel Rayhan, presiding officer at No-48 Ekramuzzaman Government Primary School, also allowed voting to continue after the scheduled deadline due to such technical delays.
Voting at Safura Khatun High School under Ward-6 was suspended for around 20 minutes as the EVM went out of order.
Polling Officer Munira Akhter said as many people had to make numerous attempts to match their fingerprints, the EVM had stopped working at one point.
Abdul Awal, presiding officer, said the problem was solved after the machine was replaced.
The centre at Rebati Mohon Pilot School and College faced similar problems.
Nasirul Islam, presiding officer at Kindercare School centre, said, "The problem we face with mismatched fingerprints would not occur if we would register the iris of the eye instead for voting."