EVM experience: Largely without hassles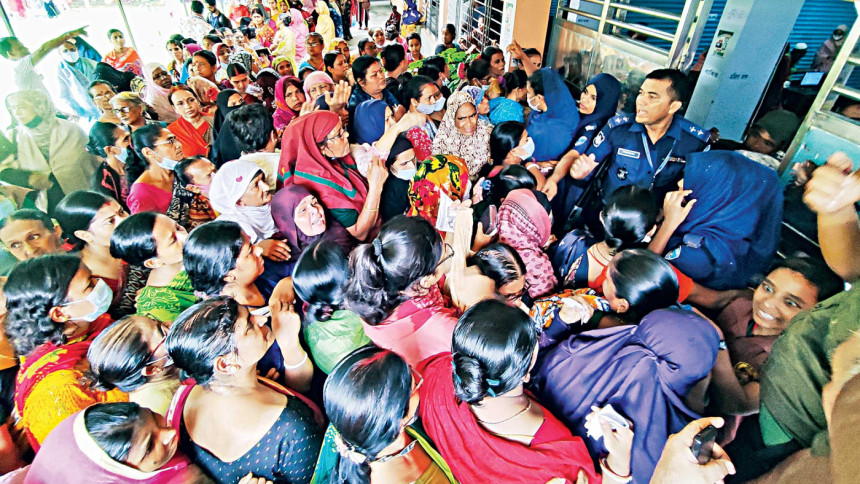 Voting in yesterday's Cumilla City Corporation polls took place largely without hassles, but there were some complaints about technical issues with electronic voting machines and long waiting times.
EVMs were used in all 105 polling centres -- a first for the city. EVMs were also used in the two previous city polls, in 2012 and 2017, but not exclusively.
"It's easy and quick, no hassle," Momotaz Akter said after casting her vote at the Victoria Government College polling centre.
"This is not the first time. I cast my vote through EVM last time too."
Akter, a homemaker, said there were three buttons for three posts -- mayor, general ward councillor and reserved ward councillor -- and it took less than a minute to complete the process.
Another female voter, Rahima Khatun, said initially she was puzzled but she found her way when election officials made the process clear to her.
"I never cast my vote on a machine. I was a bit puzzled but election officials taught me what to do. I just followed the directives. It's easy," she said after casting her vote in Ishak Government Primary School.
Like them, many female voters expressed satisfaction after casting votes through EVM. In previous elections across the country, it was reported that female and elderly voters had difficulty voting with EVMs.
Chief Election Commissioner Kazi Habibul Awal said the polls were  peaceful and estimated that there was about 60 percent turnout.
He  also said that on some occasions, elderly people faced a few problems  while casting votes using EVMs, but the general response was good.
Some voters said as people had previous experience of using the machines and there were enough mock voting exercises, the voting was more or less smooth.
But there were some allegations of fingerprint mismatches, wrong press of buttons and long waiting times to cast votes.
Election officials said mostly elderly people faced problems as they were not familiar with the process and did not take part in mock exercises.
Arshad Ali cast his vote at the Chowara Islamia Fazil Madrassa polling centre.
"Initially, my fingerprint did not match but eventually it did. Then I pressed the wrong button," he said, ruing that he could not vote for his preferred candidate.
Md Mominul Islam, the centre's presiding officer, said the assistant presiding officers and other election officials helped voters from outside the secret room.
"We guide them before they enter the booth. But many still faced problems doing it correctly, and in those cases we asked them to follow our instructions," he said.
Islam said this was one of the reasons for long queues.
There were some reports in some centres that the EVM was not working but it was addressed immediately, these correspondents found.
Some voters of ward-19 alleged that the EVMs displayed only the "Boat" -- the electoral symbol of the ruling Awami League candidate.
Following the complaint, Judicial Magistrate Omar Faruk visited Neura MI High School polling centre, but the magistrate claimed that he was not allowed to enter the booth.
"I came here to verify the allegations. When I entered the polling booth and wanted to see the EVM, the presiding officer obstructed me."
Nazmul Amin, presiding officer of the centre, confirmed the development to The Daily Star and said, "I told the magistrate that I cannot allow him to enter a 'secret room'. It is not legal."
He also claimed that the machines were okay and had been inspected by the technical team. He said there were mixed reactions on using EVMs and many voters had said it slowed down the voting.
Contacted, Returning Officer Shahedunnabi Chowdhury said the reason for slow casting is not the use of EVMs but that each voter had to cast three votes.
"In some cases, it might be that EVM was a factor in slow casting, but overall it was not the case," he said.