Everyone has a responsibility to contribute to free, fair polls: Haas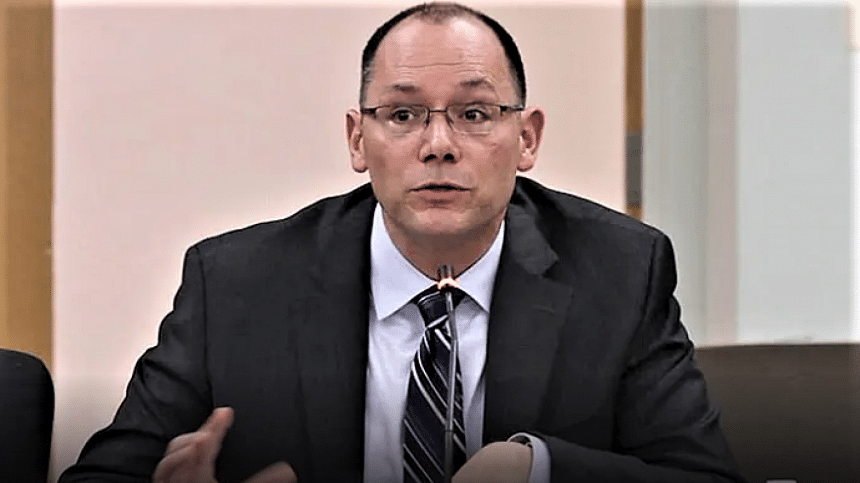 US Ambassador to Bangladesh Peter Haas said today that everyone involved in the democratic process in Bangladesh is responsible for contributing to a free, fair, and peaceful election.
Following a meeting with ruling Awami League leaders at the party's headquarters in the capital, Haas also said the US does not favour one party over another, but that it supports a democratic process that will let the people of Bangladesh elect their next government.
"This meeting with the Awami League is one of a whole series of meetings that I have done with all parts of Bangladeshi society," he told reporters.
"As you are aware, I have met with other political parties. I also frequently interact with the media and civil society. As the US ambassador, I interact with the police and security forces as part of my duties. I make the exact same points at every meeting, and it is our policy to support free, fair, and peaceful elections in which nobody uses violence.
"We believe that everyone has a responsibility to contribute to the free, fair, and peaceful conduct of the election. The government, the media, other political parties, civil society, the judiciary, the security services, and obviously the voters have roles to play," the ambassador said.
"I also reiterated that the US does not favour any one party over another. And a democratic procedure that will let the people of Bangladesh elect their new government is something we support," the ambassador added.
In response to a question regarding the US's stance on a party's demand of election under a non-partisan caretaker government and the AL not being interested to discuss the issue, Haas said the US has absolutely no position on the demand.
"The answer to that question will depend on the political parties' decision and that the only elections that matter to us are ones that are peaceful, free, and fair."
Responding to another question on whether the US is more aligned with the BNP, Haas said, "It's a weird question when I'm sitting at the Awami League headquarters. No, we talk to representatives from all parties. We don't favour anyone. There is no preference; we treat individuals from all societal groups equally and we do not play favourites."
Earlier this morning, Peter Haas and the ruling Awami League leaders held a meeting at the AL party office.
AL General Secretary Obaidul Quader, AL presidium member Lt Colonel Mohammad Farooq Khan (Retd), International Affairs Secretary Shammi Ahmed, Office Secretary Barrister Biplab Barua, Information and Research Affairs Secretary Salim Mahmud and Executive Member Mohammad Ali Arafat were present at the meeting.