Cumilla city polls: All eyes on Cumilla, EC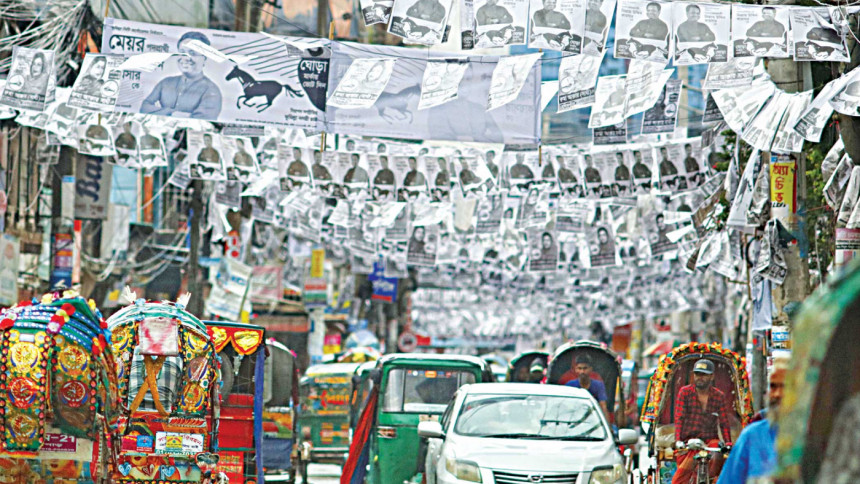 Candidates in the Cumilla city polls made their last-minute efforts to woo voters yesterday as the electioneering ended at midnight.
Many voters believe that Awami League mayoral nominee Arfanul Haque Rifat may have an advantage over his main rival Monirul Haque Sakku, who is running in the election without party backing.
Former BNP leader Sakku, also the immediate past mayor of the Cumilla City Corporation (CCC), was expelled by his party for taking part in the polls going against the party's decision.
Voters also said Sakku, an independent candidate, may capitalise on the people's anti-government sentiments to win votes. According to them, turnout will be the deciding factor in this year's election. A big turnout may favour Sakku.
Tomorrow's election is going to be the first major one to be conducted by the recently formed Election Commission, led by Chief Election Commissioner Kazi Habibul Awal. All political parties are waiting to see how the commission performs its duties in the polls.
A total of 229,920 voters, including 117,092 women, are eligible to exercise their franchise in tomorrow's CCC polls. The EC will use electronic voting machines (EVMs) in all 105 polling centres.
Speaking to The Daily Star, several voters and civil society members said things are more difficult for two-time mayor Sakku this time as he did not get the BNP's support. Also,another independent mayoral hopeful Nizamuddin Kaiser, a former BNP leader, brought allegation against Sakku that he is "basically an Awami Leage man".
On the other hand, AL nominee Rifat is known as the right-hand man of local AL lawmaker AKM Bahauddin Bahar. He is not getting support from the party's other local faction, led by Anjum Sultana Sima, daughter of late AL leader Afzal Khan.
In the maiden CCC polls in 2012, Sakku defeated AL candidate Afzal by over 30,000 votes. Afzal's daughter Sima lost to Sakku by about 10,000 votes in 2017.
Bahar and his supporters did not join the polls campaign in 2012. Five years later, Bahar's supporters refrained from campaigning for party candidate Sima, said AL sources.
Alamgir Khan, president of Shushashoner Jonno Nagorik's (Sujan) Cumilla unit, said, "Traditionally, voters in Cumilla city are attracted to candidates' personal image and charisma. This time, party backing will also be a factor."
He said voters will evaluate former mayor Sakku's performance in the last 15 years (as mayor of CCC and Cumilla municipality). Rifat's major challenge would be to keep the intra-party grouping in check, he added.
The city residents did not see any untoward incidents during campaigning which began on May 27.
Visiting some city areas yesterday, this newspaper found that there was not much enthusiasm among voters about the polls.
"Voters, especially the elder ones, are worried about using the EVM. Using the machine may be a hassle for them," said Khairul Azim Shimul, former general secretary of Sommilito Sangskritik Jote's Cumilla chapter.
He said it seems that the EC is eager to hold a free and fair election.
Syeda Shahin Sultana Kakoli, a local resident, said she will not exercise her franchise tomorrow as none of the mayor hopefuls are competent to serve people.
"The overall election atmosphere is fine, but I won't vote," she said.
CAMPAIGN ENDS
Yesterday, the major mayoral candidates brought allegations against each other. Sakku, however, refrained from campaigning and held meetings with his supporters to devise the last-minute strategy.
Campaigning in the city's Ballavpur area, Rifat alleged that Sakku is a corrupt person. He pledged to reveal the corruptions if elected.
Sakku denied the allegation saying that he completed almost all the projects he took up as mayor.
There were around 30 percent incomplete works, he said, adding that he wants to win a third term to complete those incomplete works.
Meanwhile, Kaiser lodged a complaint with the EC office yesterday stating that outsiders and criminals were roaming the city which might harm the congenial polling atmosphere. He asked the commission to take action against them.
Returning Officer Shahedunnabi Chowdhury said CCTV cameras have been installed in all 640 booths of the 105 polling stations.
"The voting atmosphere is very good. The BGB is already patrolling the city and law enforcement agencies are on high alert to avert any untoward incidents," he said.