Bringing education to a remote char
77-year-old Moslem Uddin teaches students for free, despite personal struggles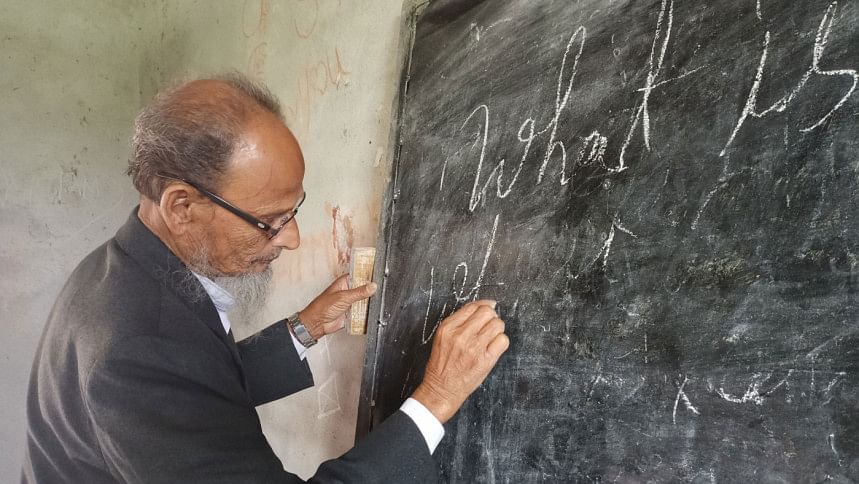 The light of education hardly ever reached Char Kalikapur, an inaccessible area on the Teesta riverbed. For the children of 400 families of this area, going to school remained a distant dream amid other harsh realities.
But one day, Moslem Uddin, a farmer from Bhotmari union of Lalmonirhat's Kaliganj upazila, decided to turn things around. Amid his hectic schedule, the 77-year-old has been voluntarily teaching the char's children.
For Moslem, this gesture comes straight from the heart. "I couldn't continue educating my two sons and four daughters, as there was no high school in the area," he said.
And that is why he has taken up this mission.
A non-government educational institution -- "Nodi O Jibon Junior High School" -- was established in the area in 2008, and Moslem played a role in setting it up.
Moslem passed his matriculation exams (now SSC) in 1969 at the age of 23. At the time, he was the only person with the certificate in the char.
He had to study from a relative's house in the main land. However due to poverty, he could not continue his education. He then returned to the char and concentrated on agriculture.
Moslem lives with his wife Bino Ara Begum. They have two bighas of land where they cultivate various crops including maize.
"Things are changing now. Many char children are now becoming educated. I've taught all these children myself. Still I am teaching many as they are also eager to learn," he told this correspondent.
Moslem teaches English and other subjects. He spends most of his day teaching students at the "Nodi O Jibon Junior High School". Besides, students often visit his house to study.
There are 11 teachers in this school and 136 students are studying in grade 6-8.
Azizul Islam, a guardian, said his sons and daughters being taught by Moslem in the school and at his house. He doesn't take money from them for tuition.
Mahbubur Rahman, headteacher of Nodi O Jibon Junior High School, said, "Moslem is teaching the students of this school without any remuneration. Students also admire and love him for his dedication."
There is a government primary school and the school where Moslem teaches at the char, which is about 6km away from the mainland. During monsoon, boats are the only means of transportation there while in the dry season, one has to walk for miles through sandy land.