Work together to keep 1971 legacy alive: Indian envoy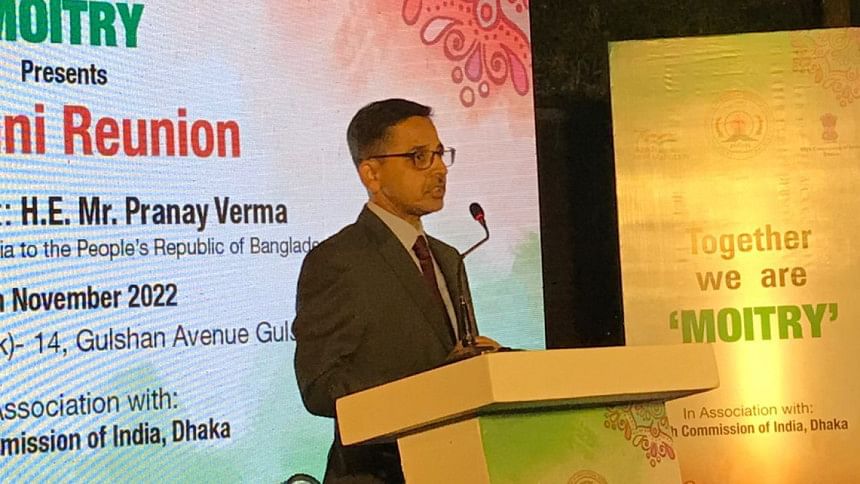 Indian High Commissioner to Bangladesh Pranay K Verma has said it is important to work together to keep the legacy of 1971 alive, especially among the younger generations.
"That's a very important task. We should not forget our history," he said while speaking as the chief guest at the "Maitri Alumni Reunion 2022" held at Old India House yesterday evening.
The high commissioner said the relations between Bangladesh and India are rooted in the shared sacrifice that makes it so special.
"We call it a relationship which is special, multifaceted and more than a strategic partnership. But I think it is truly a relationship of people," he said, adding that the people-to-people link is the most important element of bilateral relations.
The envoy said youth is the natural constituency that they are looking to engage as the future of the Bangladesh-India relationship depends on their shoulders.
Bangladesh and India commemorate December 6 as "Maitri Diwas" or Friendship Day, showing that the emotional bonds stemming from the "invaluable contribution of the government and the people of India" in the Liberation War of Bangladesh remain a dominant factor in shaping Bangladesh-India relations.
"It is again a reminder of our very glorious friendship for over 51 years. This is also a day to pledge and make our commitment to a more glorious future for our relations," the high commissioner said, highlighting the importance of educating the younger generation.
Just 10 days before the liberation of Bangladesh in 1971, India recognised it on December 6, 1971.
The high commissioner said Maitri is a great initiative which has brought everybody together and given them an opportunity to interact in a very organised way.
"My expectation and my hope will be that we will build on our current engagements by using you as partners in whatever we are doing to build newer bridges, greater linkages and to add more strength to an already strong relationship that we have," he added.
Pranay Verma said those bonds of friendship – 1971 – are becoming stronger with the strengthening of contemporary engagement and cooperation. "Let's all work together to unblock new opportunities and create new avenues for cooperation to grow."
Maitri Adviser Barrister Tureen Afroz also spoke at the event which was followed by a cultural function.